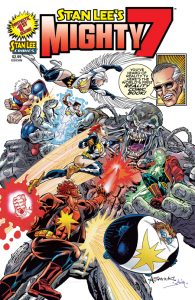 In a new series by the icon comic legend, Stan Lee, the author gets to play – himself. In "Stan Lee's Mighty 7" Lee leaps through the pages portraying himself as he makes appearances next to his superheroes. Lee says the project was inspired by reality TV, it is in essence "reality comics" in which Lee makes cameo appearances.
In a Reuters interview Lee, with his usual humor said: "Reality TV is a big deal today, so why not do a reality comic book? (See why I get the big bucks?) It wouldn't be a reality comic book if I gave myself a super power, because I don't have one. So it would be just fiction again. See this story is very true. (Please say I say these things with a laugh or people will think I'm crazy!")
The series will be written by Tony Blake and Paul Jackson, both of whom have written for television. The project is a partnership between POW! Entertainment (a company started by Lee), Archie Comics, and A Squared Elxsi. In Stan Lee's Mighty 7, Lee "will guide the superheroes," after their spaceship crash lands at Lee's doorstep.
You can read a sneak preview at Scribd.