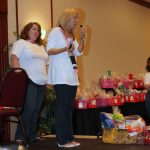 Some events are self-serving. Some events are purely for fun. Then, there are events like the Annual Reader & Author Get Together held each year in West Chester, OH, hosted by Lori Foster, Duffy Brown and Linda Keller.
The fact that the event gives entirely to charity is enough to write a full article about. It's wonderful to see people pull together and give to others. But, it isn't just that. The authors, the volunteers and even the readers who attend this event give so much heart to these charities that it makes the event special in so many ways.
The charities that this event gives to includes One Way Farm, a local place for abused children and women, or people who are handicapped and need extra help. Ask one of the authors hosting the event what One Way Farm does and I promise you they will melt your heart as they shed some tears. This place is very special to the community.
Other charities include  AAFPets, a no-kill shelter and animal adoption foundation and the Conductive Learning Center.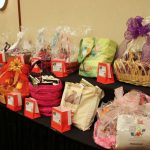 There is this true giving spirit at this event. A love for people less fortunate and for animals.  It is a place where hope thrives and where people stand up for each other, for those less fortunate.
The event only charges $50, just enough to cover the costs of food.  The charity money comes from the sale of an anthology, which authors donate stories to, and it comes from massive amounts of donated gift baskets that are raffled off.  This year over 150 gift baskets were donated.
Of course there is that draw of meeting a favorite author or discovering a new author.  Readers get a lot of personal time with authors where they can talk and actually create a bond of friendship.
This year's event brought in a record number to the event with over 400 attendees! Best selling authors such as Sherrilyn Kenyon and Lori Foster, just to name a few, draw people from near and far.  Over 170 authors attended the event this year! A book signing for ebook authors and another for print authors gave readers time to get autographs and chat a bit.
Publishing professionals and industry leaders also attend and there are workshops, parties and a true feel of camaraderie.
If you've never attended this wonderful event I highly recommend it. You can find out more at www.lorifoster.com under her "Community" section.
(Photos for this article courtesy of Kimberly Rocha)