What happens when four romance writers get together?  We throw a party!  Victoria Alexander, Grace Burrowes, Vanessa Kelly, and Theresa Romain will be hosting a huge, on-line holiday gala to celebrate the release of our Christmas historical romances.  Readers can join the fun on November 30 at The Romance Dish blog, from 9 am to 9 pm.  We'll be having live chats, exchanging holiday recipes and gift ideas, and giving away prizes every hour, including a grand prize at the end of the day that will be worth the wait.
And in keeping with the spirit of the Season, we'll also be donating baskets of books to libraries and women's shelters.  For details and to RSVP for this fabulous holiday event, please stop by the Romancing the Holidays website (www.Holiday-Gala.com).
We sure hope you can attend our gala, but if you can't here are some tips on how to throw a historical party of your own this holiday season…
Victoria Alexandra, author of What Happens at Christmas:  For the perfect Charles Dickens Victorian holiday
party, be sure to decorate with lots and lots of evergreens, especially holly, ivy and, of course, mistletoe. Then replace your eccentric family with actors, throw in an old boyfriend to make things nicely awkward and, oh yes, include a few fake orphans for just the right touch of chaos.
Grace Burrowes, author of Lady Louisa's Christmas Knight:  Be sure to schedule your party during the full moon, because guests must find their way home when the festivities are over, and moonlight looks so pretty on new fallen snow.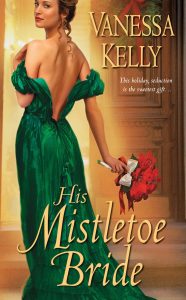 Vanessa Kelly, author of His Mistletoe Bride:  When planning a Christmas party, be sure to arrange for the Waits to come and sing for your guests.  These merry groups of villagers go from house to house to regale the locals with Christmas carols, and to share in the cheer of the wassail bowl.  Do not, however, allow them to partake of the wassail bowl before they sing, or you might end up with regrettably drunken performers.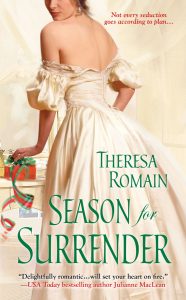 Theresa Romain, author of Season for Surrender:  To ensure a lucky year ahead for your Regency New Year's party guests, invite a dark-haired man to show up right after midnight. The "qualtagh" or "first-foot"–the first person who enters your house in the New Year–indicates what kind of year it'll be. And a dark-haired man is the luckiest sort of qualtagh. (The reasons why have been lost to history, but a fan of romance can probably think of a few.)
Websites:
Victoria Alexander: http://www.victoriaalexander.com
Grace Burrowes:  http://graceburrowes.com
Vanessa Kelly:  http://vanessakellyauthor.com
Theresa Romain:  http://theresaromain.com