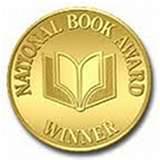 The National Book Awards began as an idea in 1950 to give awards to writers from writers. The awards are sponsored by; The American Book Publisher's Council, The Book Manufacturers' Institute, and The American Booksellers' Association, and are awarded to writing in the fiction, non-fiction and poetry.
The award winners for 2012 are:

Fiction:
Louise Erdrich – The Round House
Non-Fiction:
Katherine Boo  – Behind the Beautiful Forevers: Life, Death, and Hope in a Mumbai Undercity
Poetry:
David Ferry – Bewilderment: New Poems and Translations
Young People's Literature award"
William Alexander – Goblin Secrets
A list of all the award finalists, as well as links to their works can be found here.