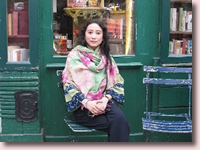 Reader's Entertainment welcomes author Mingmei Yip. She is a multi-published author in several genres. Her latest book offers readers an intriguing journey into the world of spies, gangs, and the gritty underbelly of Shanghai.  Welcome, Mingmei!
Tell us the synopsis of your latest book, The Nine Fold Heaven.
It is the story of a singer-spy who undertakes a dangerous and emotionally fraught journey to reunite with her lost lovers and, against all odds,  the baby she was told was stillborn but who still appears in her dreams. She is alternately hindered and helped by Shadow, a stage magician who is her sometime rival.
Here's more from the book's cover copy:
In this mesmerizing new novel, Mingmei Yip draw readers deeper into the exotic world of 1930s Shanghai first explored in Skeleton Women, and into the lives of the unforgettable Camilla, Shadow, and Rainbow Chang.
When Shadow, a gifted, ambitious magician, competed with the beautiful singer spy Camilla for the affections of organized crime leader Master Lung, she almost lost everything. Hiding out in Hong Kong, performing in a run-down circus, Shadow has no idea that Camilla, too, is on the run with her lover, Jinying – Lung's son.
Yet while Camilla and Shadow were once enemies, now their only hope of freedom lies in joining forces to eliminate the ruthless gangster Big Brother Wang. Despite the danger, Shadow, Camilla, and Jinying return to Shanghai. Camilla also has her own secret agenda – she has heard a rumor that her baby son is alive. And in a city teeming with spies and rivals – including the vengeful gossip columnist Rainbow Chang – each battles for a future in a country on the verge of monumental change.
The Nine Fold Heaven is part of a series of Skeleton Women (femmes fatales) but can be enjoyed by itself.
What do you feel is the most unique aspect of your story?
My protagonists are brave and strong women who are relentless in overcoming hardship and tragedy to live life on their own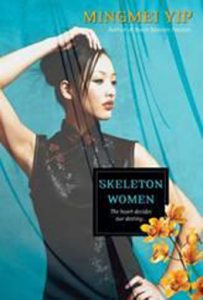 terms and achieve happiness. It is hard now even to try to imagine the hardships women had to endure in traditional China – marrying to a dead fiancé, making them the slaves of the dead man's parents, or forced into prostitution, yet not even allowed to keep their babies. My heroine was taken from her parents, trained to be a spy and to kill with no emotion..
Some of my characters are inspired by the lives of actual women, including Camilla the singer-spy in my new novel The Nine Fold Heaven, and the teenage prostitute Xiang Xiang in my debut novel Peach Blossom Pavilion (now in its 5th printing!) I feel honored to be able to give these silenced women their voice.
Tell us about your main character(s).
The three beautiful, talented and scheming skeleton women, or femmes fatales, are Camilla, the singer spy, Shadow the magician, and Rainbow Chang the gossip columnist. Though are all successful, they remain marginalized in a society that disdains independent women.  Camilla and Shadow, realizing their real enemy is a repressive society, stop fighting each other and unite to defeat their gangster boss.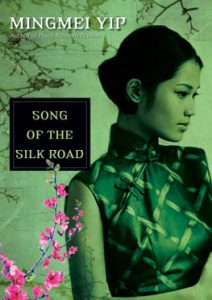 In researching these novels I was fascinated to learn how women could overcome their rivalries and survive in a near-lawless world controlled by gangsters for whom murder was as routine as sipping a cup of tea.
In the course of her adventurous life, Camilla finds herself with two lovers. One is the Harvard-educated son of the gangster head Master Lung, whose bed she is forced to share. The other is Gao, Lung's most trusted bodyguard. These are two very different men, the son is refined, intellectual, but impulsive, while the bodyguard has rough manners but is always gentle and respectful to Camilla. This iron-man-with-a-tender-heart bodyguard, seems to win the hearts of many of my female readers.
What genre(s) is this and who do you think will enjoy reading it? 
The Nine Fold Heaven is woman's fiction with strong romantic elements  – though quite a few men have told me they enjoyed it too. I have many fans in the US, Europe, and Russia, as well as faraway places such as China and Indonesia. My novels have been translated into nine languages so far.  It seems readers  from all over enjoy stories of plucky people meet great challenges on their way to success and happiness.
Have you received any feedback on it yet, and if so, what was it?
Yes, I've received many favorable comments. Here are just a few from book bloggers:
Book Examiner: "A unique and enthralling style….flawless."
Bookish Whismy: "The clashes between opposing viewpoints in politics and religion gave more dimension to the characters and created a thought-provoking larger conflict …  the setting feel realistic and I felt like the streets of Thirties Hong Kong and Shanghai were brought to life in this book…."
 M.J. Rose, international bestselling author: "Lovely, provocative, book clubs will be fascinated."
Chew and Digest  Books: "I enjoyed the book so much"
Reading Frenzy: "Camilla is a noir heroine who readers will love to hate or hate to love….The narrative is colorful and an exotic mix of cultures and traditions and will bring the sounds and flavors of a troubled lawless past society to life."
Tell us something about yourself that most of your readers may not know.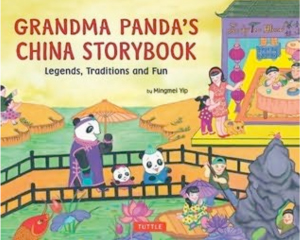 Besides writing novels, I also frequently performs on the qin (an ancient Chinese instrument), does storytelling,  teaches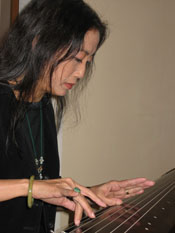 calligraphy workshops and Taichi.  I was recently invited by Carnegie Hall ,  the Metropolitan Museum of Art, and Lincoln Center's New York Philharmonic to perform on the qin and calligraphy.
I also write and illustrate children's book published in English by Tuttle. My two children's books in English are Chinese Children's Favorite Stories  and Grandma Panda's China storybook, both are
available in bookstores and museums. 
What's next for you?
My next and sixth novel is Needle of a Thousand Beauties, to be published by Kensington Books in 2014. It is about a young woman who escapes a ghost marriage to join a community of celebrated embroiderers. Soon, stifled by the rigid routines of the group, she helps herself to one of their treasures – an imperial robe. Chased by agents of a secret society, she makes her way to Beijing. There she finds work in an embroidery shop, only to be tricked into marrying the boss' son. Escaping again, she falls in love with a revolutionary and lives an even more dangerous life. Despite all these distractions, she continues with her needlework and earns fame and respect.
Where can people interact with you and find out more about you and your books?
Please visit my website if you want to read about my books – you can also see some of my paintings and calligraphy, and hear me play my Chinese stringed instrument, the qin. Please also join me on facebook, twitter, and other sites:
Web: www.mingmeiyip.com
Facebook: http://www.facebook.com/SilkRoadRomance.MingmeiYip
Twitter: https://twitter.com/?iid=am-86526363013379043940807496&nid=23+recipient&uid=257960407&utm_content=profile#!/
Amazon page: http://www.amazon.com/Mingmei-Yip/e/B0037A8RBO
Goodread: http://www.goodreads.com/author/show/235532.Mingmei_Yip