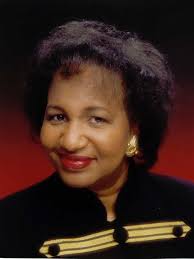 It is with great sadness that I have to announce that
literary legend Francis Ray
has made her eternal transition. She passed away on Tuesday, July 2, 2013 after a lengthy illness.  Ms. Ray will be laid to rest on Saturday July 13, 2013 at 11 am.While I am brokenhearted, I know: Death ends a life, not a relationship!
I will never forget her and the example she set for me as a business owner and publishing PR agent.  I still remember the first day she called my house to ask about the work my company, EDC Creations,  provided for authors. I was screaming like a teenager gone wild when I was told she was on the phone!  I was jumping up and down, telling my family that FRANCIS RAY, YES, THE FRANCIS RAY was on the phone!  When I settled down, breathing heavy and came to the phone, she was cracking up!  Our relationship started that day. I have worked on her book projects since August, 2006! The first book I worked on was DREAMING OF YOU — Book #3 of the Graysons of New Mexico series.

Over the years I had come to love this gentle spirit. She was sooo funny, approachable, intelligent, patient and always compassionate!  She was one of the biggest supporters of my first BAN Radio Shows.  Whenever I felt like this industry was about to overcome me, she would give me a wonderful writtern boost, to continue on.

We were both sick at the same time, yet she was sending me pearls of wisdom. Every time I was in the hospital, she called! I have a folder with more than 100 emails that will NEVER be erased. I love her! While I'm sad that she has left us, I say to you all again: Death ends a life, not a relationship!
Her legacy as a prolific author will forever live on in her 54 printed works and her work in the community with The Turning Point Legal Fund.  Ms. Ray was loyal supporter of  homeless families and women involved in domestic violence.  She left us her awesome legacy!  It's up to us to carry it forward!  In the Spirit of Sankofa, I will never let it die.  We have her books to promote!  She celebrated her 50th book with me, us, the world, and we are going to continue on…
God bless Michelle and the entire Ray family! My prayers and condolences go out to them all. I'm listing the details for Ms. Francis Ray's  homegoing services below.
Friday July 12, 2013
Public Viewing 4-7 pm

Concord Church
6808 Pastor Bailey Dr
Dallas, TX 75237
(214) 331-8522