The Witch Finder by Blythe Gifford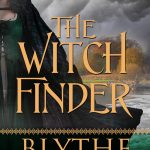 SYNOPSIS
Scotland, 1661
He's a haunted man.
Alexander Kincaid watched his mother die, the victim, they said, of a witch's curse. So he has dedicated his life to battling evil. But in this small, Scottish village, he confronts a woman who challenges everything he believes. She may be more dangerous than a witch, because she's a woman who threatens his heart.
She's a hunted woman.
They called her mother a witch, but she was only a woman made mad by witch hunters like Alexander Kincaid. Having escaped to the Border hills, Margret Reid is seeking a safe haven and a place to hide. But when the witch hunter arrives, not only is her heart in danger. So is her life.
EXCERPT
THE WITCH FINDER
From Chapter One
Margret nodded her thanks and added more ale to her jug to spare herself another trip to town. Shielded by her scarf and plaide, she walked back out onto the hard-packed dirt of the lane to see the witch finder looming before her, blocking her path.
He was just as menacing in daylight, cloak swirling above bucket top boots, all in colors somber enough to please the Kirk. Yet if she had not known who he was, she might have suspected him of practicing dark arts.
His deep-set eyes snagged hers. Even in daylight, she saw a haunted look there. As if he were the one carrying the demons.
She cast her gaze to the ground, hoping he would not notice her.
Too late. "Good day, Guidwife."
She tried to step around him, turning her face toward the hills.
His hand touched her shoulder. "I said, 'Good day!'" His voice was firm as his touch. "Will you not look at me and give a civil reply?"
Against her will, she turned, slowly, and watched his expression change, the same way they all did when they saw her full for the first time.
"My God." Startled into blasphemy, he drew his hand away from her shoulder. "I was not blinded."
She met his eyes, knowing he saw something very different when he looked at hers.
"They're . . . ," he stumbled over the words. "One is blue, the other . . ."
She let him look. No reason to hide what he had already seen. One eye was blue, clear and bright like her mother's. The other was altogether different, with a patch of brown filling part of the iris.
"And yours," she began, when the silence stretched taut. Shadowed by his brows, his eyes looked near black. "One is brown, the other, brown." Calm words, when she wanted to scratch his eyes out and cover her own so no one would ever see them again and wonder.
Down the street, the two women from the alehouse had stopped at the edge of the common green to watch. He looked at them, then to the alehouse and back to Margret. "You know who I am."
He must know enough of village life to know that news of a stranger traveled fast.  "I do not know your name." In her dread, she must have missed it.
"Alexander Kincaid. And yours?"
She did not answer. "They say you find witches." His boots were fine leather, the fabric of his cloak a deep black not faded with time. Together, they must have cost a woman's life. Maybe two. "It seems you find a lot of them."
Surprised, he leaned away. She took a deeper breath. She should not have insulted him, but now that he had seen her, the best she could do was resist. Sometimes it worked. Sometimes the man would hesitate long enough for her to run.
"I don't do it for money."
She raised her eyebrows. "But they do pay you."
"To do God's work. To stamp out evil, yes."
Was that what haunted him? Had he seen too much evil and chosen to fight it? "How many? How many witches have you found?"
He looked toward the fields and made no ready answer. What lay behind his silence? Days, weeks, months of confronting them in too many towns, killing too many witches to remember?
"Not enough," he said, finally, facing her again. "They still surround us."
She thought she had seen them all, all the hunters. Some, with pursed lips and Bibles, were convinced they were servants of God. Others, with lascivious eyes and slack lips, had more earthly motives.
But this man was different. He spoke of God, but the pain he carried was his own.
"You haven't told me your name," he said.
"Margret."
"Margret what?"
It was a common enough name. It would mean nothing to him unless he was from Edinburgh. "Reid. Margret Reid."
"I will see you again, Guidwife Reid."
She hurried away without answering, wishing it were not true.
AUTHOR BIO
After many years in public relations, advertising and marketing, Blythe Gifford started writing seriously after a corporate layoff. Ten years and one layoff later, she became an overnight success when she sold her first book to the Harlequin Historical line.  Since then, she has published ten romances set in England and on the Scottish Borders.  For more information, visit www.blythegifford.com
SNEAK PEEKS are a great way to find new authors, stories or get previews! Please do share and/or comment!