Dual Release by Tara Nina looks pretty hot!!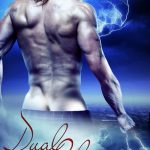 SYNOPSIS
Book five in the Cursed MacKinnons series.
A lead on a demonic cult lands Cait and Jenny in the arms of a pair of scrumptious
twin Scottish lairds. Hot sex fueled by danger tightens their bonds with these men. But
sunlight plays against them. Dour and Donnell MacKinnon are cursed. Just the girls'
luck—they finally find the perfect men and they're gargoyles.
The cult wants the MacKinnons dead. Cait and Jenny want them in their beds. Men
by night. Gargoyles by day. It's a battle against evil these women are determined to win.
A Romantica® paranormal erotic romance from Ellora's Cave
EXCERPT
By reading any further, you are stating that you are at least 18 years of age. If you are under the age of 18, please exit this site.
An Excerpt From: DUAL RELEASE
Copyright © TARA NINA, 2014
All Rights Reserved, Ellora's Cave Publishing, Inc.
The moment the van pulled away, the man they followed slipped inside a warehouse behind the woman and the man in the wheelchair. Cait nodded to Jenny and together they exited the car, sneaked over to the warehouse and quietly entered the building. Slowly and deliberately, they got into a position where they could hear what was going on without being seen. For some reason, their suspect wanted some sort of statues.
What in the world did this supposed paranormal brotherhood want with a pair of statues? Cait needed to get a better view to determine what was so important about this particular item, when there were so many easier-to-steal artworks readily available. Carefully, she and Jenny worked their way into a better position. From their new angle, a pair of sleeping men, wearing kilts, was chiseled in stone.
The two lifeless forms had bodies even a Greek god would die for. Damn. Cait strained to get a look at the faces of the statues, but the man in the wheelchair blocked her line of sight. It impressed her how agile he was when he knocked the legs out from under their suspect, who hit his head and was out cold from what she could tell. Catching a motion out of the corner of her eye, she ducked behind the crate and huddled close to Jenny. Holding her finger to her lips and shaking her head, she let Jenny know not to say a word or move.
Heavy footsteps fell as Cait slowly peeked around the edge of the crate. A man carried a gun and was followed by three other men. All wore black and were there on a mission—to get those statues. They had to be extremely valuable. She kept a visual on them and listened to every word she could catch.
The thieves turned down money to go away. And for what? Power? It didn't make sense. Had the guy they followed been right about the leader of the brotherhood wanting to become some all-powerful being, a black-magic guru? She'd scoffed at the idea when he'd said it. But now she was beginning to think he meant it.
She heard the woman demand to speak with a Brother Leod. She'd heard that name before in conjunction with the brotherhood they were investigating. Their suspect had let it slip while drunk at the bar. The way the oversized thug mocked the woman with his reply pissed Cait off. And for some reason, she knew she couldn't let them steal these statues. If they made it past the crates where she and Jenny were hiding, then they'd be free and clear to load the statues into the waiting van without anyone stopping them.
That so wasn't going to happen.
The man with the gun took a step backward and before he turned, Cait acted on impulse. She rushed him, clipping him behind the knees and taking him face first to the ground. His heels dug into her stomach. Air gushed from her lungs, leaving her winded for a few seconds. She heard Jenny scream before she saw her fly off the top of a crate and land on two of the other thieves.
For a moment, Jenny couldn't believe Cait took a man down. But she had no time to consider the consequences. Two of the other men were moving toward Cait and she'd have no part of them hurting her best friend. She'd watched enough WWF wrestling with her brothers to pick up a thing or two. All she could do was hope it worked. As nimble as a cat, she got on top of the crate she'd been hiding behind and pounced. With her arms and legs spread wide, she managed to hit the pair with enough force that one fell and the other stumbled backward.
She landed hard, half-on, half-off the man on the ground. Immediately he rolled, leaving her face first on the floor and out of breath. Though she gasped for air, she lifted onto her hands and knees. Funny, it didn't look like it hurt when those guys did it on TV.
The squeal of brakes had her twisting her neck to see what happened. The lift operator slammed the lift in park so hard the statues wobbled and the older woman held her hands out as if she could possibly have stopped them if they fell. From the size of them, she probably would have been crushed if they did topple over.
Before Jenny stood, one of the men kicked her in the ribs.
"Bitch," he spat out but didn't get the chance to connect again. At first, she had no clue what happened, since she'd doubled over in pain and her eyes automatically closed. Prying them open, she saw the guy who kicked her flat on his back, moaning, and the van's chauffeur limping quickly toward her.
A dark shadow behind her eyes threatened her consciousness. She had no intention of blacking out. Not when her best friend needed her. Jenny dug deep for the energy to stand and remain focused as the chauffeur helped her. She did plan to have a stern chat with Cait when this was over.
In her book, the definition of thrilling did not include jumping off a crate and getting the crap beat out of her. Nope. She wheezed, taking in air though her side ached. This most definitely wasn't a thrill. She might have been raised in a house full of boys, but that didn't mean she knew how to fight. She never had to. Her brothers were always there to protect her. God, she wished she did know how right now though. The knee-to-the-groin trick her oldest brother taught her wasn't going to help in this situation.
She hated to admit neither she nor Cait had any fighting skills, but that didn't stop Cait. She caught sight of Cait holding her own, as was the chauffeur. He'd jumped into the brawl, slinging punches and bloodying a nose or two. Impressive for a driver. She didn't have time to think it through or ask questions. Jenny leaned against a crate, catching her breath and searching for a weapon. Seeing a loose board, she pulled it free and wielded it like a bat.
Blindly she swung it at anything wearing a black hooded sweatshirt. When she hit one of them in the side of the head, he slowly folded to his knees and fell over onto his side. It felt awesome to see it was the idiot who'd kicked her. She stood over him and sneered.
"Vengeance is mine," she quipped before turning on her heels and taking aim for anyone who came near her.
Cait quickly scooted onto her knees, even though it hurt to breathe. Definitely going to have a set of bruises on her tummy from the feel of it. She sat on his back, knees digging into his sides, and jerked his hood down, tightly wound her hands in his hair and tried to keep his face pressed to the floor. The way he was flailing about, attempting to dislodge her precarious position, had to be similar to riding a bull.
Wheelchair guy rolled into action, running over the man's hand before he retrieved the gun he'd dropped in the fall. The man screamed, barely drowning out the sound of bones breaking. Cait cringed at the crunch and pop. Instead of weakening him, it incited his crazy gene even more. The large man rose straight onto his knees, cradled his injured hand to his chest and used his other hand to hit Cait, who clung to him like a backpack. With one hand twisted in his hair, she wrapped her other arm around his neck and squeezed, hoping to shut off his airway.
She was surprised to see the van's driver had appeared out of nowhere. He helped Jenny off the floor and then went to swinging punches at the other three. The man in the wheelchair spun, snatched up the crowbar and entered the mix. He landed a solid blow with the crowbar in the middle of one of the bad guy's guts.
As she battled to keep a hold on the ringleader, Cait caught sight of the older woman in front of the crate. Her head was bowed as if in prayer and the words of what Cait thought was an ancient Celtic prayer poured from her lips.
"Ceum saor de clach. Be Ye Biast air duine. Tis Gaol dara slighe. Ge Ye be mèinne dh'oidche mur dh'là."
The ground rumbled. The crate shook. Cracks splintered the statues. Light spilled from the newly formed slits as dust filled the air. Pebbles and stones rolled to the ground. A cloud of dirt and dust rose, filling the area to a point visibility was nil.
As if mesmerized by what was happening, the fighting momentarily stopped. Cait slid off the guy she'd been bronco riding. Coughing and gagging from everyone filled the room. But when the dust cleared, Cait's jaw dropped. One word flashed inside her head. Damn.
A set of the most gorgeous twins she'd ever seen sat inside the crate. The statues were gone. Two living, breathing men were in their place. Granted they were covered in dust, but… Wow.
"You bitch," echoed around the warehouse as the forgotten injured man on top of the statue's crate sprang at the woman, knocking her to the ground and landing on her. His fist poised to hit her but never made contact.
A strong hand caught his wrist and held it tight, jerking him by his arm off the woman. The wild-eyed man glared at the hand, then all color drained from his face once he made the connection as to who had a hold on him.
"Ye nay be hitting the lady. Bad enough ye knocked her down." The tall Scotsman with fiery-red hair and the greenest eyes Cait had ever seen on a man turned his head to look at the other Scotsman and said, "What say ye, Dour, shall we teach this gent some manners?"
"Aye, in due time, mi brathair," Dour replied as he helped the woman, who'd been knocked to the ground, back to her feet. Confusion furrowed his brow as he obviously surveyed his surroundings. "Do ye happen to know where we are perchance?"
"Donnell, Dour," the redhead said. Her voice shook with excitement as the twins' faces showed their disbelief that this woman knew their names. "You've been set free from a curse. You've been asleep for over two hundred years. There are constraints with this freedom."
Donnell released the man he was holding as he stared, bewildered, at her.
"This isn't happening," the large ringleader spouted angrily. "It's some sort of trick. They've got the statues. Get them." He commanded his goons to attack.
"There's no time to explain. These men are out to destroy your family," she explained hurriedly as she pointed at the men dressed in black. "Help us and we'll see to it you're returned home safely."
 AUTHOR BIO
Hot Romance~Sexy Attitude best describes Tara Nina's writing style.
She creates for Ellora's Cave in sensuality ranges from steamy hot to
simmering sweet, which includes paranormals, contemporaries and
romantic suspense. She is a Southerner living in the northern wilds of
New Jersey. She loves meeting readers. You can find her at RT, BEA
and Ellora's Cave Romanticon Convention.
www.taranina.com
SNEAK PEEKS are a great way to find new authors and stories or get a preview! Please feel free to share and/or comment!