Getting Out Of Ohio by Samantha Livingston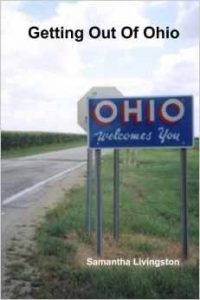 SYNOPSIS
Amie Davis had a wonderful life. She lived on a farm surrounded by her loving Father and the serenity of small town Montana. She had married the love of her life when she turned twenty and they planned to raise a family and spend the rest of their lives together. Fate, or rather a jealous ex-farm hand of her Father's had other plans though. Not long after sharing a beautiful wedding day with the love of her life, Joe, Amie is threatened by Jeremy Phillips, A man with a deadly infatuation with her, to leave the life she loved to go away with him far away from Montana. As she is faced with the possibility of losing everything she holds dear forever, Amie discovers that she is pregnant. Amie is then forced to deliver and raise her child almost completely on her own, aided only by a kind store keeper named Charlie Thompkins. It is not until her child, Breanna is close to turning five-years-old that Joe stumbles upon them accidentally in a small town in Ohio. A gripping tale of love, courage, and perseverance.
EXCERPT
My Mother had heard about morning sickness all of her life from women she knew who were having a child, but she had never realized just how sick she was going to feel. She knew that stress had to have a major part in it, but there was no way of eliminating that stress. As difficult as it was to keep her condition from Jeremy, it would be even more so to keep him from flying off the handle once he did find out.
Lucky for her, he would come home so drunk on some nights that he would sleep in through the mornings afterward, giving her the privacy to get sick without him noticing. She continued to take her vitamins, praying that it was enough to make up for her poor diet and unclean surroundings.
She had a small corner in the bathroom where she was able to hide the pill bottle. One morning, she had gotten up, crept out of bed, and went for her usual routine in the bathroom, including taking her vitamin. The house was continuing to fall apart and Jeremy did not have enough interest in it to do anything for repairs unless it was something they could not live without. Even then it was a task for her trying to convince him to do anything.
On that particular morning, when my Mother opened the small cabinet where the pills were, the door slid and came of the hinge, making a clashing sound as it hit the floor. Her heart skipped a beat and she carefully tried to listen for the sound of Jeremy waking up in a rage. Fifteen seconds went by without a sound as she sat as quietly as possible. She then decided that he must not have been awakened by the sound and proceeded to set the pill bottle on the sink as she lifted the cabinet door and leaned it against the frame it had fallen from.
"He's lucky I even did that much!" She said aloud but quietly.
She twisted open the cap to the bottle, filled a cup of water and took the pill. No sooner was it down her throat than she saw a figure at the corner of her eye. Upon turning around she realized that Jeremy was standing in the doorway watching her every move.
"What the hell are those things?" He demanded with a demeanor which gave it away that he had been awakened from a hung over sleep.
My Mother froze where she stood. Her heart was sunk and she felt sick, this time not just from being pregnant. She knew that there was no other choice now than to tell the truth and keep him calm as best she could.
"They are exactly what they look like they are." She said in a calm manner. "They are prenatal vitamins. I'm having a baby…."
If it were at all possible for steam to come out of a man's nostrils just as they would a hot tea kettle, it would have happened to Jeremy right then. It was worse than just being angry or hung over, now he was both.
"Get rid of it!" He shouted.
After having known him for so many years, my Mother knew that he had little knowledge of anything, especially about babies. She figured that was her best bet in manipulating him into letting her have a healthy child.
"It's too late. I can't have an abortion now." She told him.
"What do ya mean it's too late?" He became angrier.
"You cannot have an abortion after a certain point in your pregnancy and I am past that point." For once in her life, she was actually comfortable lying.
Before she knew it, he had his hand squeezing tightly around her arm. "Then we'll just have to do it the old fashioned way."
"Wait!" She screamed.
"Wait for what?"
"D-don't you think you should have more consideration for your own child?" She was in deep and she knew it. Although she prayed for and was sure that the baby was her husband's child, she was willing to go along with the idea that it was Jeremy's for the time being.
His eyes widened. "My child?"
"Well, think about it." Her voice began to sound disgusted even though she was trying to hide it.
"After what….happened on the way here." She had no choice but to turn her back to him in order to keep him from seeing the tears in her eyes. He had hurt her and he knew that. She was just too proud to give him the satisfaction of seeing her tears.
"Well, even if it is my kid, I don't want it!"
This was the reaction she feared. She was not going to give up though. She could not give up. There was too much at stake now. She knew in her heart that she was carrying the child of the man she loved and that child was the only part of him that she had to hold on to.("Getting Out of Ohio" Chapter 16)
AUTHOR BIO
I am a twenty-one-year-old self-published author born and raised in Indiana. My first novel was published in April of 2013 and I currently have two novels and a children's book published. I have wanted to be an author since I was very young and have been writing since I was in Elementary school. I try to give readers something to think about with my books that perhaps make them view the world and different situations in ways that they may not have thought about before.
Sneak Peeks are our way of helping readers find new books and authors and get previews. Please share and/or comment! Thank you!