Dress up time turns deadly when three teens discover a mansion deep in the woods, housing kidnapped girls who are forced to dress and act like dolls. Find our more at http://anyaallyn.com/ and http://www.paperlanternlit.com
Dollhouse by Anya Allyn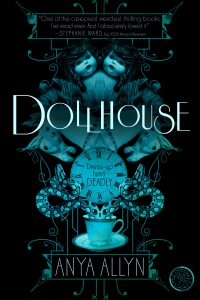 About the Author:
Anya Allyn was born unexpectedly and without proper instructions.
A dreamy girl betwixt the clouds and space, she was given the thing she desired most for her tenth birthday–a microscope–and subsequently developed a penchant for small things: frogs and ants and microbes, and the earth (when viewed from other planets).
She considers a mind and body that do not roam free are the living dead.
Anya lives in a house by the sea–and slips in and out of forests and through a day, where the wild things are ….
She has four adventure-seeking boys and a bookcase filled with adventures.