Published on Jun 24, 2014
Twenty years after the elemental conflict that nearly tore apart the cosmos in The Saga of Seven Suns, a new threat emerges from the darkness. The human race must set aside its own inner conflicts to rebuild their alliance with the Ildiran Empire for the survival of the galaxy.
In Kevin J. Anderson's The Dark Between the Stars, galactic empires clash, elemental beings devastate whole planetary systems, and factions of humanity are pitted against each other. Heroes rise and enemies make their last stands in the climax of an epic tale seven years in the making.
Find out more at http://us.macmillan.com/thedarkbetweenthestars/KevinAnderson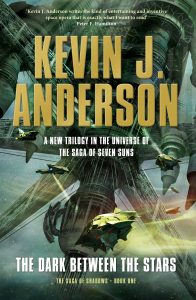 About the Author:
Kevin J. Anderson was born March 27, 1962, and raised in small town Oregon, Wisconsin, south of Madison—an environment that was a cross between a Ray Bradbury short story and a Norman Rockwell painting. He first knew he wanted to create fiction when he was five years old, before he even knew how to write: he was so moved by the film of War of the Worlds on TV that he took a notepad the next day and drew pictures of scenes from the film, spread them out on the floor, and told the story out loud (maybe this is what led him into writing comics nearly three decades later!). At eight years old, Kevin wrote his first "novel" (three pages long on pink
scrap paper) on the typewriter in his father's den: "The Injection," a story about a mad scientist who invents a formula that can bring anything to life . . . and when his colleagues scoff, he proceeds to bring a bunch of wax museum monsters and dinosaur skeletons to life so they can go on the rampage.
At the age of ten, he had saved up enough money from mowing lawns and doing odd jobs that he could either buy his own bicycle or his own typewriter. Kevin chose the typewriter . . . and has been writing ever since.