Fire meets ice as storm-mage Khamsin Coruscate weds icy-eyed conqueror Wynter Atrialan in NY Times Bestselling author C.L. Wilson's new epic fantasy romance from Avon. Selected by Publishers Weekly as one of this summer's most anticipated reads.
"What an adventure this story is!" Night Owl Reviews
"Wilson pulls out all the stops in her long awaited return to epic romantic fantasy, with plenty of steamy sensuality and riveting action." Publishers Weekly
"A truly magnificent adventure!" Romantic Times Magazine
Find out more at http://www.clwilson.com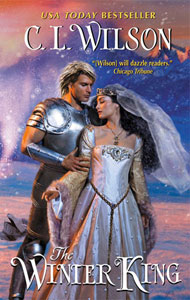 About the Author:
C.L. Wilson is USA Today, NY Times, and Publisher's Weekly
bestselling author of a cross-genre series that combines
epic fantasy with romance. Her debut novel was released
in two back-to-back volumes in October and November
2007 as lead titles of Dorchester Publishing's Leisure Books
imprint. Her first novel, Lord of the Fading Lands, hit the
USA Today list of the top 150 bestselling books in America
on its first two weeks in print, and the sequel, Lady of Light
and Shadows, ranked on both the USA Today and the New
York Times mass market fiction extended list. Her books have continued to appear on
national bestseller lists ever since.
Since her debut, Ms. Wilson and her books have won numerous awards including:
Best debut paranormal romance of 2007 by Lifetimetv.com's Michelle
Buonfiglio at Romance B(u)y the Book. (Lord of the Fading Lands)
National Readers Choice Awards – Best First Book & Best Paranormal
Romance (Lord of the Fading Lands)
P.E.A.R.L. Award for the Best Debut Author of 2007 (selected by the members
of ParaNormal Romance community http://paranormalromance.org/).
Gayle Wilson Award of Excellence for the Best Paranormal Romance of 2007.
(Lady of Light & Shadows)
CATA Networks Reviewers Choice Award for best Single Title Romance 2008
(King of Sword and Sky)
P.E.A.R.L. Award winner for Best Romantic Fantasy of 2009 (Queen of Song
and Souls)
Ms. Wilson graduated cum laude from Georgia State University. She holds a Bachelors
Degree in English, Creative Writing. Before selling her first book, she worked as a
marketing manager, a technical trainer, and a marketing product manager for high tech
companies. She is a member of Romance Writers of America (RWA), Novelists, Inc (NINC),
and Science Fiction Writers of America (SFWA).
In early 2010, Ms. Wilson's frontlist and backlist were purchased from Dorchester by Avon
Books, a division of Harper Collins.
Wilson lives in Bradenton, FL with her husband and their three children.