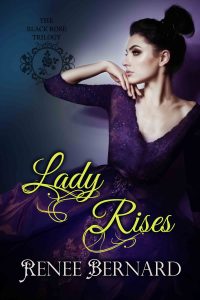 The intriguing second novel in the Black Rose Trilogy, Lady Rises.
From the ashes of LADY FALLS, Raven Wells is transformed into Lady Serena Wellcott.  Now with wealth and power all her own, she is the founder of the Black Rose—a secret society dedicated to securing justice for women who have been abused or wronged in the private corridors of Victorian society.  She has dedicated her life to revenge, honing her skills at the bequest of others but biding her time until she has the two men she loathes most in this world in her sights.
Sir Phillip Warrick has scars of his own from their fateful encounter years before and his heart has never healed from the loss of his beautiful Raven and the irrevocable mistake of brutally ending their affair.  But when he found no trace of her, he let himself believe that she was dead.  Except Phillip isn't that lucky.  When he is introduced to Lady Serena Wellcott at his cousin's country home, his world begins to implode.  Because once again he has a tigress by the tail, except this time, it's a dangerous mix of passion and poison when it becomes clear that what the lady wants most is his head on a platter.  If only he didn't still love her with every fiber of his being…
In a dance of desire, Serena has her own struggles reconciling the man she once loved with the irresistible rake she has vowed to hate.  Vengeance is its own mistress and it's a race to the finish as the Black Rose takes on a quest to carve out justice and find mercy even where it's been forgotten.  Love may rule but Lady Serena Wellcott doesn't believe in playing fairly and she also doesn't believe in surrender.
EXCERPT from LADY RISES
The diamonds were a wise choice, Phillip told himself grudgingly.  Raven was playing the lady with a flair that denied even a breath of suspicion.  James was so enthralled by the glittering show of wealth at his table, the man was practically salivating.  He watched her in reluctant appreciation then glanced over at his cousin Delilah who was looking at him in silent supplication to behave better toward her new friend.
And there's the answer.
Oh, I can behave 'better'.  In fact, I can play the part that will send James into paroxysms of joy and ensure that whatever schemes the witch is cooking will come to nothing but ashes.  You should have run, Raven, while you had the chance.
"I must say, Lady Wellcott," Phillip interjected at the first pause in the conversation.  "Had I known that Aphrodite herself was going to grace this house, I would have brought a better wardrobe."
Serena smiled.  "Is it your opinion that the goddess of love would be swayed by a better waistcoat?"
"It may not hurt."
"What shallow flavor of love are you aiming at, Sir Warrick?" she countered, not giving him an inch. 
"Then school me, Lady Wellcott.  What does sway a woman of substance?" he asked.
"A man out of his waistcoat is always a good start." The look she gave him was so potent with heated challenge that Phillip had to shift in his chair at the surge of stiffening blood rushing to his cock.  "And naturally, an invitation to take a grown man to school strikes me as a thing that has an appeal all its own.  Would you not agree, Mrs. Osborne?"
"Oh!" Delilah exclaimed.  "I—have no opinion on such things."
Lady Wellcott lifted her wine glass to her lips and set it down slowly.  "Oh, well.  Do not fear.  Your cousin makes a show of flirting with me but like most men, he will shy away from any real challenge."  She picked up her knife to make an elegant slice across the venison on her plate. "Men easily speak of goddesses and then manage to look so handsome in their surprise when a woman demands to be worshipped.  But don't worry, Sir Warrick.  I neither expect you to build me a temple nor recite a single ode to my ankles.  I am only mortal and not worth the trouble."
Trouble is the only currency you value, woman.  Phillip clenched his jaw in frustration but then forced himself to smile.  If she wanted to punish him for confronting her in the garden, then so be it.  But he wasn't going to abandon his course.
Two can play at this game.
"My poetry skills are a little rusty, Lady Wellcott.  I would have to see the ankles in question before I could compose a few lines.  Lift your skirts and let's see if I'm inspired."  
The sound of crystal shattering to the floor as one of the footmen dropped his tray was rewarding but the flustered look of shock on Serena's face was like the gates of heaven giving way.
I'm going to enjoy this, your ladyship.
And take you to school this time around.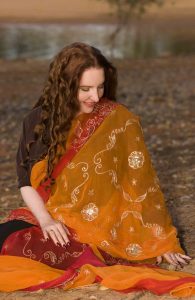 AUTHOR BIO:
What in the world is a retired Navy chaplain's daughter doing writing scorching hot historical romances and paranormal graphic novels? Renee Bernard is applying a great education from traveling all over the world to story telling and doing her best to keep her father proud. Truthfully, her father is her number one fan, even though he has sworn never to read a single word of her books (a vow he has kept to this day!) Nothing stops him from telling everyone he knows that his daughter is now a USA Today Bestselling author or from handing out bookmarks on the golf course.  Love can make even a minister do strange things!
Renee Bernard is a freelance writer and host of "The Romance Bookmark" on Readers Entertainment, as well as a contributor to Romantic Times BookReviews magazine.  Renee currently lives in the foothills of the Sierra Nevada Mountains in Northern California. (Note an interesting proximity to great wineries!) For more information, please visit her website at www.reneebernardauthor.com.