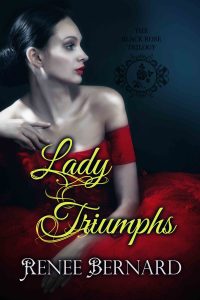 The final installment of the Black Rose Trilogy, Lady Triumphs releases today. Bestselling author Renee Bernard's acclaimed historical series has garnered multiple 5-star reviews.
Marvelously daring, welcome to a sensual world that will test not only your mind but your heart." – Delilah Marvelle, Award Winning Author 
"Delicious! A fabulous story that draws you in from the very first word and stays with you long after the finish. -"Máire Claremont, Award Winning Author
With Phillip Warrick at her back and the lovers reconciled, it will still take every resource and wicked skill she has acquired to destroy the man who was once her trusted guardian.  Lord Trent is no ordinary foe but Lady Wellcott has never shied away from a challenge and what's a bit of revenge between old friends?
From the glittering ballrooms of London to the shadowed servants' passages of the ton's grand homes, the Black Rose will weave a seductive spell until no one is safe.  Phillip's loyalty is tested to its limits as he is forced to stand aside and watch the woman he loves assume her role and identity as a Villainess with no equal.  Their shared hatred of Trent is eclipsed by Phillip's need to protect her even if the greatest danger comes from Raven herself.  Their passion for each other has only grown and each sensual encounter cements the bonds that tether her dark soul to his—even when rivals appear and their world starts to unravel. 
The stakes are impossibly high but Serena is a fearless gambler.  Every element of her upbringing and every tragic misstep comes into play. Raised for vengeance, she will return to the earl as his creation and serve him a slice of his own poisonous fruit with a smile on her beautiful lips.  The Lady has planned the perfect murder.  The only problem is, it will likely be her own.
EXCERPT from LADY TRIUMPHS
"Name your terms, woman."
She took a deep breath.  "I will not abandon the Black Rose."
He nodded.  "So be it."
"I will never marry."
He didn't flinch.  "We'll set aside that debate for another day.  So long as I alone have you, for I will not share you with another man."
"If only you knew how truly selfish I have been with this heart, sir.  Apparently once given, I lacked a single thread of human charity that would have compelled me to offer any other living soul a slice of it."  She sighed.  "Even when I hated you, Phillip Warrick, I was yours. Entirely yours."
"I will make no effort to reform you on that point." 
Serena tipped her head to one side.  "I assume your fidelity is also part of this arrangement?"
"Without question."  He began to relax, the heat between them igniting again.  "Anything else?"
"I am going to destroy Trent.  It is time."
"Raven," he started to protest, the heat dying in an icy flare inside his chest.  "Please, my darling.  Let's let it go.  The earl is the devil himself.  Let Hell sort him out."
"No." She shook her head and pulled her hands away to stand. "My resources are in place.  I have cooled my heels long enough to give him the illusion of my disinterest.  I am going to destroy Trent, on my own terms and in my own way.  And what I require is not your approval or complicity, but your strength to stand aside."
He came to his feet without effort.  "To stand aside?"
"I will not ask for your help in this enterprise.  There must be no hint of your involvement or he will sense it like a fox downwind of the hounds and I will lose him."  She reached up to stroke his face, the soothing trail of her fingertips calming his brow.  "My skills are unparalleled but even I cannot risk arousing his old obsessions when it comes to you, Phillip."
He shook his head.  "I don't care what you claim.  Your confidence had to have suffered a blow at Southgate and these 'skills' that put you in harm's way will not shield you from Trent's madness."
"I'll make no inventory to you of recent lessons I've learned, Phillip."  Her hands fisted at her hips.  "I have named my terms, sir."
"He's more dangerous than you imagine."
"I know that even better than you."
Phillip shook his head.  "What self-respecting gentleman could agree to this?  What kind of man steps back and lets the woman he loves face a demon like that alone?"
"I won't be alone.  I have the Black Rose and I have you to return to each night and to encourage me."  Raven leaned in to kiss him softly.  "Give me the greatest gift I could ask for, Phillip."
"And what gift is that?" He tasted the silk of her lips before she leaned back to look into his eyes.  "My trust?"
Her eyes misted with emotion and at last, she gave them voice.  "Revenge."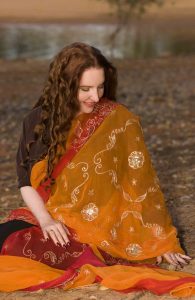 AUTHOR BIO:
What in the world is a retired Navy chaplain's daughter doing writing scorching hot historical romances and paranormal graphic novels? Renee Bernard is applying a great education from traveling all over the world to story telling and doing her best to keep her father proud. Truthfully, her father is her number one fan, even though he has sworn never to read a single word of her books (a vow he has kept to this day!) Nothing stops him from telling everyone he knows that his daughter is now a USA Today Bestselling author or from handing out bookmarks on the golf course.  Love can make even a minister do strange things!
Renee Bernard is a freelance writer and host of "The Romance Bookmark" on Readers Entertainment, as well as a contributor to Romantic Times BookReviews magazine.  Renee currently lives in the foothills of the Sierra Nevada Mountains in Northern California. (Note an interesting proximity to great wineries!) For more information, please visit her website at www.reneebernardauthor.com.