He lost her once. Is this their second chance?
Transforming Belle Cove Resorts' image will take Dakota Carson's company to the next level, but it means working with the man who broke her heart. Years ago, Logan Montague walked away from everything, including the woman he loved. Now he's back, and won't risk losing Dakota again. Find out more at http://www.LisaWatson.com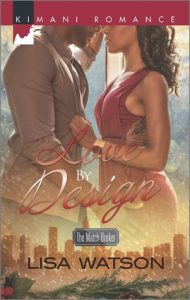 About the Author:
A native of Washington D.C., Lisa Watson writes multicultural novels.  Having her debut novel nominated for Best Contemporary Fiction, sparked Lisa to continue creating engaging storylines, strong characters with universal appeal, and a keen sense of humor.
Lisa loves traveling, so weaving beautiful destinations into the pages of her novels as lush backdrops, or the heritage of her characters is not uncommon.
Lisa's first series for the Harlequin's KIMANI™ line, The Match Broker series, introduced readers to Love Contract, and matchmaking guru, Norma Jean Anderson, aka The Love Broker.  Her goal is to have her son, Adrian, and everyone in his immediate circle of friends, happily married—period.  Book two in the series, Her Heart's Desire, was released in May 2014, and hit #1 on the Amazon Bestseller list.  Look for book three, Love by Design in October 2014.
Lisa works at a technology consulting firm, is the co-publicist for RT BookReview Magazine's annual RT Booklovers Conventions, and the host for Reader's Entertainment Radio show.
Married for eighteen years, with two teenagers, and a Maltipoo, Brinkley, Lisa lives outside Raleigh, NC and is avidly working on her next series.