San Francisco heiress Romi Grayson has only had a taste of Maxwell Black's addictive brand of seduction and knows she should stay away, especially having discovered just how determined he is to possess her.Max prides himself on always being in control, yet somehow Romi sneaked under his cast-iron defenses, then walked away. Now he is driven to finish what they started. This Russian tycoon will stop at nothing, even blackmail, to have Romi warm and willing in his bed. And her innocence will be his prize. Find out more at http://www.LucyMonroe.com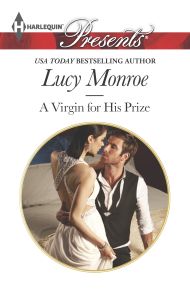 About the Author:
USA Today bestseller and award winning Lucy Monroe's love affair with books and reading began at age 4. She often climbed her mother's book stacks to pull down the novels on the top shelves. When she was caught reading the Reader's Digest Condensed Version of "The Godfather" while still in Kindergarten, those books got moved. Although she's always loved mysteries and suspense, romance has been her passion since she kyped her first Presents from her oldest sister's bedside table (again way too early).
She began writing after a conversation with God in the bathtub; as a homeschooling mom until her children were in middle school, the only place she could find any peace for many years was the bathtub. Her path to publication was not strewn with rose petals or even pavement!
Lucy wrote more than one million words of romantic fiction before selling her 13th manuscript to Harlequin Presents, nine years on from that fateful bathtub conversation.
Since then, Lucy has hit national bestsellers lists in England and the U.S.. She's sold more than 70 books to five publishers and has written three successful ongoing author led series. Her highly charged, sensual stories touch on the realities of life while giving the reader a fantasy story not easily forgotten. Whether it's a passionate Harlequin Presents, a sexy romanticsuspense for Kensington Brava or a steamy historical-paranormal for Berkley Sensation, Lucy's books transport her readers to a special place where the heart rules and love conquers all.
Lucy has recently signed a three book deal with Grand Central, launching a brand new contemporary stand-alone romance series called the Cailkirn Chronicles. Set to publish in Spring 2015 back-to-back (April, May and June) the series takes place in Cailkirn, a small Alaskan town where the temperature might be cold, but the men are hot!
"I'm absolutely thrilled to have the chance to work with Lucy! I've long been a fan of hers and I'm excited to partner with her on this new and exciting chapter in her career. The Cailkirn Chronicles features stories full of the passion, hope, and heart that is so uniquely Lucy. I know readers are going to be as taken with Cailkirn and its residents as I am–get ready, Lucy Monroe fans, we're off to Alaska!" – Lauren Plude, Editor Grand Central Publishing
Known for her emotional depth, snappy dialogue, solid plotting and dry wit, Monroe's stories have found their way into readers' hearts and their keeper shelves. Which is exactly where she most wants to be. An author who writes so she can touch readers' hearts, she's never happier than when hearing from readers when she's done so.
Lucy finds awards affirming, best sellers lists a great blessing, but it's the interaction with readers via email, her social pages and at reader-centric events that reminds her time and again why she writes and why, for her, she always will.