Here's a head start of on some amazing holiday titles from some of your favorite authors.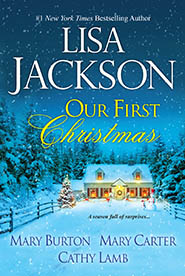 Contemporary Romance Titles
Our First Christmas – a holiday anthology the includes stories from Lisa Jackson, Mary Burton, Mary Carter and Cathy Lamb 
"It's that time of year when the world falls in love…" Join four of your favorite authors for tales of Christmas romance to remember forever.
"Under the Mistletoe," Lisa Jackson
Megan Johnson's marriage is over—or so she thinks. When her husband Chris lands in the hospital, fighting for his life, she remembers the unexpected joy of their first Christmas together…
"A Ranger for Christmas," Mary Burton
The holidays bring painful memories for history professor Marissa Thompson. Agreeing to help Texas Ranger Lucas Cooper solve a case offers the perfect distraction. But as danger threatens, the joy of love has never been more tempting.
"A Southern Christmas," Mary Carter
Reporter Danielle Bright is heading home for the holidays to write up a feature story about Christmas down south—and possibly win back her ex. But Sawyer, the sexy photographer along for the ride, is determined to jingle her bells…
"Christmas in Montana" Cathy Lamb
Family is the ideal antidote to getting fired, but Laurel Kelly isn't prepared for the changes at home in Montana—or the fact that her college boyfriend Josh Reed now owns the family land. But a blue Christmas could be the perfect surprise for a holiday to remember.
Christmas in Cowboy Country – Janet Dailey
The greatest gift is love. . .
Ski instructor Annie Bennett doesn't have time to miss the twinkling lights and holiday parties in Aspen and Vail. With her older brothers gone and winter just around the corner, her parents need help with their sprawling Colorado ranch. The most wonderful time of the year isn't always easy for a lot of the folks in their town, but Annie does her best–until the tall, dark, and rugged surveyor on their neighbor's land becomes a potent distraction. . .
Wyoming born and bred, Marshall Stone is a practical man. But there's something about Annie that's as wild and sweet as the mountain wind. He doesn't want to tame her. Just love her. Annie Bennett is all he wants for Christmas. And for always. But she's too wary to believe he means it. Until he takes her in his arms and explains without saying a single word. . .
When the Snow Falls – Fern Michaels, Nancy Bush, Rosanna Chiofalo and Lin Stepp
Something's in the air this holiday season, and it could be the beginning of a wonderful Christmas romance…
"Candy Canes and Cupid" by Fern Michaels
All private investigator Hannah Ray wants for Christmas is a quiet day at her Florida beachfront condo. When her biggest client insists she join him on a Colorado ski trip, she has little choice—but what she finds on her arrival could melt the coldest heart…
"White Hot Christmas" by Nancy Bush
Aspiring PI Jane Kelly likes to pretend she's a bah-humbug kind of girl, but she's had mistletoe on the brain ever since she shared a kiss with her boss, Dwayne. Before she can hope for a repeat performance, Jane must solve a kidnapping that's as twisted as a candy cane—and not nearly as sweet.
"Seven Days of Christmas" by Rosanna Chiofalo
Five years ago, Bianca Simone received a wonderful early Christmas gift from her boyfriend, Mark—a week amid the stunning Alpine scenery of Innsbruck, Austria. Now she's back under very different circumstances, but Mark has one more special gift in mind…
"A Smoky Mountain Gift" by Lin Stepp
Veda Trent is back in Townsend to fill in as temporary manager of the Crafts Co-op, but she's not planning to stay. Though the mountain town is small, it holds lots of unsettling memories. Yet the wind can change, bringing with it new opportunities—and the chance to create the kind of Christmas Veda has always longed for.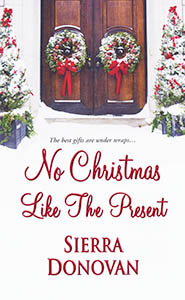 No Christmas Like the Present – Sierra Donovan
Lindsay Miller is knee-deep in Christmas cards and homemade fudge, but she's never felt more like a Grinch. Why can't Christmas be full of magic, like in her favorite movie, A Christmas Carol…?
…Enter Fred, a sexy and eccentric stranger who arrives at Lindsay's door out of the blue. Dressed like he just stepped out of a Dickens novel, complete with British accent, Fred claims he's a Messenger, sent from "Headquarters" to help her discover the joy of Christmas. But is Fred an angel from above—or just stone cold crazy?
Fred's used to dealing with skeptics. Telling a stranger you've been ordered to inspire holiday cheer is a tough sell. But there's a further complication. Fred's mission is to help Lindsay right the wrongs from her past that have been holding her back. But somehow along the way, they've become wildly attracted to each other—and falling in love is not part of the plan. Fred only has 'til the stroke of midnight on Christmas Eve to guide Lindsay to the magical future she deserves—even if it's a future without him…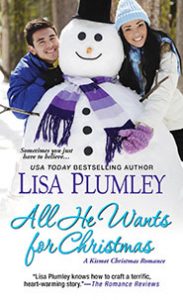 All He Wants For Christmas – Lisa Plumley
In Kismet, Michigan, Christmas is special: big fluffy snowflakes, sleigh bells, carolers singing. It's a picture-perfect holiday–you just have to choose who's in the frame. . .
Jason Hamilton is on thin ice with the board of his toy company. The young CEO may be a kid at heart, but his party boy reputation requires damage control. So Jason's off to Kismet to inspect a model store, stay on Santa's Nice list, and stick to business–no goofing around. Which is too bad, because the store manager, Danielle Sharpe, is the definition of what makes Naughty fun. . .
Danielle is thrilled to show off her thriving little toy store–especially if it's her ticket out of Kismet. The single mom is tired of manufacturing cheer solo while her ex-husband has all the fun. But if she'd known Jason was this hot, she wouldn't have offered to host him. With Jason in her house, Danielle is getting warmer than spiked cider. She's supposed to impress him with her expertise, not daydream about catching him under the mistletoe. Now whatever she does, she can't get swept up in the magic. . .
Find these and more titles at Kensington Publishing.