I  had a wonderful time chatting with bestselling author, Sheila Roberts.  I can't believe how the time flew by, but we did get a chance to discuss some very interesting topics: her Merry Christmas Mama video, the idyllic city of Leavenworth, WA which was the inspiration for Icicle Falls, chocolate, how exciting it was to have her novels turned into movies, her beautiful gold lame dress and Red Carpet parties, and of course…how wonderful we think Pierce Brosnan is as an actor.  Pierce, we're sorry about the singing comment, and we do love you!
Sheila has done many things in her life before writing novels.  She owned a singing telegram company, and played in a band.  Her band days are over, but she still enjoys writing songs. Sheila's books are best sellers and often appear as Reader's Digest Condensed Books. Her novel "Angel Lane" was named one of Amazon's top ten romances in 2009. Her novel "On Strike for Christmas" was a Lifetime Network movie and her novel "The Nine Lives of Christmas" is now a Hallmark movie, scheduled to air November 8th.  Her latest novel, The Lodge on Holly Road, is Book 6 in the Life in Icicle Falls series and is sure to warm reader's hearts.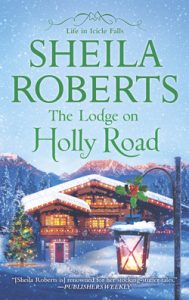 Book Blurb:
How Santa Gets His Christmas Spirit Back…
James Claussen has played Santa for years, but now that he's a widower, he's lost interest—in everything. So his daughter, Brooke, kidnaps him from the mall (in his Santa suit!) and takes him to Icicle Falls. She's arranged a special Christmas at the lodge owned by long-widowed Olivia Wallace and her son, Eric. And yet…Brooke wants Dad to be happy, but she's not ready to see someone else's mommy kissing Santa Claus.
Single mom Missy Monroe brings her kids to the lodge, too. Lalla wants a grandma for Christmas, and her brother, Carlos, wants a dog. Missy can't provide either one. What she'd like is an attractive, dependable man. A man like John Truman… But John's girlfriend will be joining him in Icicle Falls, and he's going to propose.
Of course not everything goes as planned. But sometimes the best gifts are the ones you don't expect!
Click on the book cover image to listen to the podcast.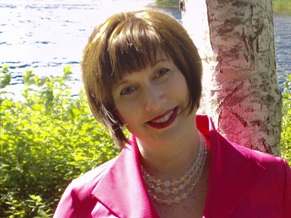 Connect with Sheila Roberts on Social Media
https://twitter.com/_Sheila_Roberts
https://www.facebook.com/pages/Sheila-Roberts/76502579853
You'll also want to check out Sheila's video, Merry Christmas Mama!  Inspired by her bestselling novel, Merry Ex-Mas.
https://www.youtube.com/watch?v=MssZlpob0os
Must read Contemporary Romance and Women's Fiction!