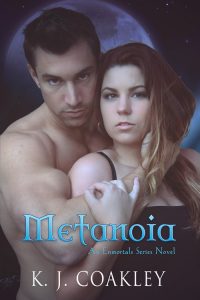 The highly anticipated second installment in the Enmortals Series has arrived. Metanoia boldly takes us into a world where parallel dimensions collide, true love is eternal, and the fate of our world hangs in the balance.
Sulwen:
I was once told this was not a game. No, it's not. This is hell on earth, and I should've stopped it before it happened. But I was afraid…of what, I have no idea. I held the power to prevent this destruction. Weakness of mind and body paralyzed me from pursuing my destiny.
I am the one.
I am power.
I am their demise.
The Star Child.
They have never known fear such as I shall show them.
EXCERPT:
Text from the Tablets of the Templar Knights:
When the Great War fell upon the Jumalat pantheons, and thus humankind, Oden sought to protect humankind by sending his Enkelit down to Earth with seven powerful Source Stones.
Upon seeing no end to the war insight, Oden tasked his powerful Enkelit with using the stones to erect a barrier between the world of humankind and that of the Enmortals.
After the Great Barrier was erected between the two planes, the Enkelit sought to disperse the stones to the leader of each creation for protection.
Humankind, the Fey, the Lycans, the Vampires, the Warlocks, the Enkelit, and the Jumalat were all charged with sealing their stones away and guarding them at all cost. For it is said that should one entity ever come into possession of all seven stones that the end of times shall rain down upon us.
About the Author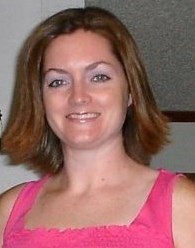 Author K. J. Coakley lives a life where she plays many roles…as most women do when they are a wife, mother, and caretaker of two rowdy dogs. But when she's not working her nine to five gig, or spending time with her family, she can be found glued to her laptop where she loves to create worlds with sexy alpha males and brazen heroines. She is also an avid fan of heavy metal and rock music, and regularly attends music festivals.
Coakley received an Associate degree in Business Administration from Walters State Community College, and a Bachelor of Business Management degree from East Tennessee State University.
Visit K.J. online at:
Website
Facebook
Twitter
Goodreads
Amazon Author Page
You can purchase K.J.'s books at:
Amazon
Barnes & Noble
Kobo