If you love high adventure and time travel here's your Sneak Peek at Michele Callahan's White Fire: Timewalker Chronicles, Book 5.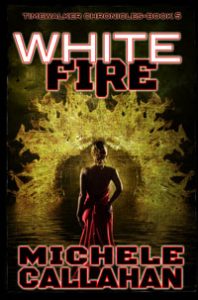 Blurb:
About White Fire: Timewalker Chronicles (Book 5)
Ajax, The Lost King of the Immortals, sacrificed everything but his memories. After the Time Crux, the loss of his beloved Queen, and a horrifying defeat at the hands of the Triscani horde in the war on Itara, Ajax's loyal crew played a desperate gamble…to go back in time and try to change things. But they trusted the wrong man, and Ajax has spent the last seven hundred years locked in a prison with no key. The battle approaches at long last, yet he remains weak and tortured, a prisoner to his own dark power. He didn't simply lose to the evil Triscani…he became one of them.
The Triscani spent centuries searching for Emma Lawson's soul. Their evil Hunters did everything they could to destroy her family's bloodline before she was ever born. They know who she is, so they hunt her. They know the power she yields, and they fear her. They know The Lost King will do anything to save her, and they would use his love to destroy him.
But Emma is human, not Immortal. She might be dangerously attracted to the newly freed Ajax, but her first priority is saving Earth from two warring Immortal races. Ajax believed himself in love with his Queen, but the woman he remembers no longer exists. This Timewalker will defy destiny, and she's not going to play by anyone's rules but her own.
EXCERPT:
Dark green eyes devoured her with their gaze from the other end of the bar. He had gorgeous hair that shone like polished mahogany in the bar's faint light. A deep shade of brown, it was just long enough to frame his face, and just long enough that she could wrap her hands in it and not see them again until she released him.
He was Itaran. An Immortal. Emma was sure of it. She'd seen enough of the gorgeous males growing up to know power when she saw it. The knowledge had been hard-won, as both Bran and her parents had been determined to keep her as far from the Immortals on Itara as they could. Which she'd always thought was a cruel joke. They expected her to rule the Immortals one day, but never see one? Ridiculous.
She was a jumper. And curious. And she'd taken her chances on more than one occasion, jumping to the few cities on Itara where she knew she'd be one more human among many, lingering in places where the human government and the Itaran mingled. Straining for a glimpse of the elusive Immortals. Humans outnumbered them on Itara, by about a hundred thousand to one, which just made catching a glimpse of one in person equivalent to a human in this Portland karaoke bar meeting a rock star or famous actress in person.
In other words, nearly impossible, if you were a normal, everyday citizen.
She wasn't. And neither was the male sitting across the bar, staring at her like he knew, like he could see her through the wig and contacts.
The Mark on her ankle sent a jolt of pain through her leg, like she'd just been stung by a bee. She jumped in her seat. Scared. Surprised.
No.
Not now. She wondered what the Immortal would do if the Triscani walked in. Help her? Or walk away?
She was afraid she was about to find out. Too bad, really. He was hot. Smoking hot. Tangle me up in the sheets and not get out of bed for a week hot. Not that it would do her any good. No, her whole life, the only thing her parents or Bran had told her was that she had to wait, meet the Lost King, fall in love, save the world, and live happily ever after. Not once had her dad said, "Go hook up with a smoking-hot criminal in a bar and have some fun. It's all right, honey. Just get it out of your system."
Shit. She had to get the hell out of there. Now. She'd have to take her chances with the Hunters. If she waited for the human bartender to try to take her home, she was afraid she'd be in deep, deep trouble with that sexy Itaran across the bar. She couldn't touch him, even accidentally. If her Mark jumped onto his ankle, there was no way she could get it back unless he chose to reject it, and her. And if not? Lifelong commitment to an Immortal criminal, one who was most likely linked to a Triad on Earth? Marriage from hell wouldn't even come close to an apt description.
He had to be living here. Which meant he was in exile, a criminal condemned to the chute. The Itarans had few absolute laws, and only two punishments for their people. Execution by Angel's Fire at the hands of the House of Judgment, or shot off into a trans-dimensional portal like an egg down a tube. Destination? Permanent exile on Earth. Earth was their freaking penal colony.
If he lived here, he'd arrived via option number two. Which meant he'd survived the other Immortals already here, and joined one of the dangerous and very territorial Immortal ruling Triads. From what Bran told her, they made the human mafia look like kindergarten bullies.
Bran had explained it all to her years ago, said she needed to know everything if she was going to rule with her Lost King. Said she needed to know what she'd be up against if she survived the battle with the Triscani.
But there was no King here, just a sexy-as-sin Immortal criminal, two run-of-the-mill Triscani Hunters, and the other, the patient one, the captain. The evil being who stalked her dreams and called her name while she slept. He was close. She could feel his anger and frustration. Maybe he couldn't deal with the fact that she continued to elude him. And she would again.
Time to get the hell out of here. Four Immortals at one damn bar was waaaaay over her limit…
__________________________________________________________________________
Bio: Michele Callahan is a car-pool mom who often makes emergency trips to the store for chocolate, coffee, or a Twix candy bar. She suffers from a dangerous case of sci-fi/fantasy fever and never turns down an opportunity to sit through a Star Wars, True Blood, Attack on Titan, or Matrix marathon. Her favorite things in books; hot heroes, superpowers, freakish things that can't be explained by modern science, and true love!
Website URL: http://michelecallahan.com