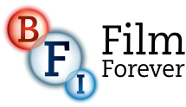 A celebration of  sci-fi films, television programs and sci-fi literature. The event has been taking place since October, but is about to culminate in an online virtual celebration festival. HarperCollins and BFI (British Film Institute) partnered to present the festival. The virtual festival will be held on November 15 – 16 and will "explore the link between science fiction literature and film with events on Twitter, Facebook, Google + and other platforms."
Additional information from the press release
The programme will reflect the three themes that identify the unique characteristics and concerns of sci-fi: "Tomorrow's World", from post-apocalyptic wastelands to megacities to far-flung dystopia; "Altered States", the science fiction of mad scientists, mutants, man-machines and mind-bending trips; and "Contact!", the exploration of life from all corners of the universe and across multiple dimensions. There will also be a focus on storytelling and the impact of literature on film and television, with "some of science fiction's big names" discussing their opinions.
Charlie Redmayne, c.e.o of HarperCollins UK, said: "I am thrilled that HarperCollins is collaborating with the British Film Institute on the BFIVoyager virtual sci-fi festival. It is very exciting to be working with such a prestigious organisation."
Natasha Bardon, editorial director of HarperVoyager, added: "HarperVoyager has a long tradition of publishing the world's finest science fiction authors, from Isaac Asimov and Ray Bradbury to our current stars including Jeff Vandermeer and Lauren Beukes. The festival will explore the intersection between sci-fi film and literature, which will make for a fascinating weekend."
As part of the festival, HarperVoyager and the BFI will be running two competitions: a sci-fi short story writing competition to be judged by Bardon, with the winner seeing their short story published by HarperVoyager as a free e-book, alongside other prizes; and a film poster design competition, with entrants being asked to create a film poster of a classic science fiction book that has yet to be made into a film, with HarperCollins creative directors Ben North and Stuart Bache, and Tim Platt, head of marketing, BFI, judging the entries.
Entries for both competitions must be submitted via email to BFIVoyager@harpercollins.co.ukby 5pm on Friday 21st November.
The winners will be announced at an event at the beginning of December at the BFI Southbank
Would-be "attendees" can register for the free festival here. The event will use the hashtag #BFIVoyager.
HarperCollins also held a digital romance festival in June.