Triumph and Treasure
Book One in the Highlander Heather Romancing a Scot Series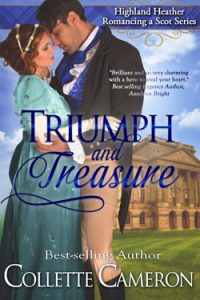 A disillusioned Scottish gentlewoman.
Angelina Ellsworth once believed in love—before she discovered her husband of mere hours was a slave-trader and already married. To avoid the scandal and disgrace, she escapes to her aunt and uncle's, the Duke and Duchess of Waterford. When Angelina learns she is with child, she vows she'll never trust a man again.
A privileged English lord.
Flynn, Earl of Luxmoore, led an enchanted life until his father committed suicide after losing
everything to Waterford in a wager. Stripped of all but his title, Flynn is thrust into the role of marquis as well as provider for his disabled sister and invalid mother. Unable to pay his father's astronomical gambling loss, Flynn must choose between social or financial ruin.
When the duke suggests he'll forgive the debt if Flynn marries his niece, Flynn accepts the duke's proposal. Reluctant to wed a stranger, but willing to do anything to protect her babe and escape the clutches of the madman who still pursues her, Angelina agrees to the union.
Can Flynn and Angelina find happiness and love in a marriage neither wanted, or is the chasm between them insurmountable?
Excerpt:
"Moll and Lasses . . . for molasses?" Angelina's lips twitched in amusement.
"Exactly so." Lord Bretheridge regarded Lady Francesca affectionately. "She named my horse Kane."
"She didn't." Angelina grinned unabashedly. "Truly?"
He winked and nodded. "Indeed."
"Have you other pets?" She made a pretense of scanning the grounds.
"A cat named Sugar or Sweetie perhaps?" Angelina patted Sir Freckleton's mottled head. "I'm surprised he's not named Sir Bon Bon."
"Mrs. Thorne, are you poking fun at my pets?" The marquis pressed an arm across his broad chest in mock offense.
"Most assuredly, my lord," she quipped, before she could stop herself. Not prudent. He might get the wrong impression about her interest in him. Not that she was interested, because she wasn't. However, if she was ever to become fascinated in a man again . . .
For pity's sake, Angelina. Do stop prattling!
She purposely changed the subject to something far safer. "Now, about those roses . . ."
They'd dawdled long enough. Angelina wasn't altogether comfortable with this light-hearted bantering. It was too personal, too intimate, and after what Charles put her through, she never wanted to be intimate, physically or emotionally, with a man again.
Lord Bretheridge didn't offer her his arm as they headed for the conservatory, for which she was grateful. She'd no desire for her traitorous body to respond to him. She was sure it would. Maybe there was something wrong with her. That's why she was attracted to handsome men who turned her into to quivering plum pudding whenever they touched her.
Well, two men could at least, though everything beyond Charles's kisses proved wholly disappointing.
New rule, avoid attractive men. And ones causing curious quivers in unmentionable places.
Author bio:
 Award winning, best-selling author, Collette Cameron, has a BS in Liberal Studies and a Master's in Teaching. Author of the Castle Brides Series and Highland Heather Romancing a Scot Series, Collette writes Regency and Scottish historicals and makes her home in the Pacific Northwest with her husband and five mini-dachshunds. Mother to three and a self-proclaimed Cadbury Chocolate chocoholic, Collette loves a good joke, inspirational quotes, flowers, trivia, and all things shabby chic. You'll always find dogs, birds, quirky—sometimes naughty—humor, and a dash of inspiration in her novels.
Her motto for life? You can't have too much chocolate, too many hugs, or too many
flowers.
She's thinking about adding shoes to that list.
Author Website- http://collettecameron.com