Historical romance with a touch of humor, how can you resist?! We can't!  And we challenge you to check out the sneak peek for Diane Cosby's An Oath Taken.  You're going to love it!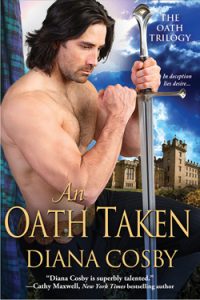 As the new castellan, Sir Nicholas Beringar has the daunting task of rebuilding Ravenmoor Castle on the Scottish borderlands and gaining the trust of the locals—one of whom wastes no time in trying to rob him. But instead of punishing the boy, Nicholas decides to make him his squire.
Little does he know the thieving young lad is really…a lady.
Excerpt
A lonely wind howled through the trees, bantering the newborn leaves with a careless hand.  The scent of peat, tinged with fresh, mountain-fed water, sifting on the breeze.  She took in the darkening sky, wishing she was home, safe in her chamber.  Again she cursed herself for nae returning to Wolfhaven Castle when she'd had the chance.
"Lad.  I will not harm you."
Though several feet separated them, she sensed his frustration.  And resolve.  "'Tis a trick.  I know the penalty for thievery."
The castellan kicked his mount forward.
She held her breath as he halted beneath the branch she stood on, his gaze straight at her.  If he'd stared at her in anger, that she could ignore.  But the intensity of his grey eyes probed her as if seeing straight to her soul.  Shaken, she pressed farther into the leaves.
"I would offer you a job as my squire."
She stilled.  A trick!  "I am nae a lackwit.  If I climbed down you would cut off my hand."  And God help her if he discovered she was a woman.
A frown creased his brow.  He lowered his broadsword and laid the flat of his blade across the withers of his mount.  "You have my word as a knight that my offer is sincere."
Hope ignited.  What if he spoke the truth?  Elizabet ached at the thought of her family and people trapped within Ravenmoor Castle.  Were they wounded?  Suffering?  She hated nae knowing.  Worse, with each passing day her belief that they lived dwindled.  The coin she'd stolen these past few days was far from enough to bribe a castle guard at Ravenmoor to set her family and people free.  If she agreed, could she successfully play the role of a lad?
'Twas unthinkable.
A fool's lot to consider his offer.  As if she could ever trust a Sassenach?  The slang name for the English suited their lie-infested truths.
But even as she pondered the reasons why such a decision would be dangerous, if the castellan's offer was sincere, she must use this opportunity to gain entrance to Ravenmoor Castle.  Her family's future depended on it.
"Lad?"
Fighting her nerves, she nodded.  "I will be your squire."
Satisfaction shone on the castellan's face.  "Come down.  You will ride with me to the castle."
"Nay.  I will make my way on the morrow, at first light."
A muscle worked in his jaw.  "I have given my word that you will not be harmed."
She tightened her grip on the nearby branch.  "And I have given mine.  I will arrive at Ravenmoor Castle at first light."
"I could come up there after you," he said with challenge.
She darted a glance to the nearby tree then back to him.  His well-honed muscles left no doubt of his prowess.  In which case, she would jump.  Then, if she didn't break her neck, slowed by the weight of his armor, she could outrun him.
Leather creaked as he shifted in the saddle.
Instinct assured her he knew exactly of her thoughts to escape.  Irritated, she tilted her chin in defiance.
Mirth flickered in his eyes.  "At first light then."
She released a slow breath.
"I would have your name."
A name?  Of course he would expect a name.  "Thomas," she replied before she could change her mind.
"Thomas," he said without preamble, "If you have not reported to me by Terce, I will track you down."  His brow furrowed.  "'Twould serve you well to heed me.  I do not make false claims."
Of that she had little doubt.  "I will be there."
With a nod he turned his destrier, kicked him forward, and cantered toward Ravenmoor Castle.
Elizabet swallowed hard as her enemy's daunting outline melded into the trees.  She'd made the right choice.  To doubt herself now could only lead to disaster.
Author Bio
A retired Navy Chief, Diana Cosby is an international bestselling author of Scottish medieval romantic suspense.  Her award-winning MacGruder Brother books are available in five languages.  Diana has spoken at the Library of Congress, Lady Jane's Salon in NYC, and appeared in Woman's Day, on USA Today's romance blog, "Happy Ever After," MSN.com, Atlantic County Women Magazine, and Texoma Living Magazine.
After her career in the Navy, Diana dove into her passion – writing romance novels. With 34 moves behind her, she was anxious to create characters who reflected the amazing cultures and people she's met throughout the world.   With the release of her 6th book in the bestselling MacGruder Brothers series, she's now preparing for the release of the 1st book in her new Scottish medieval The Oath trilogy, "An Oath Taken," which will be available on December 8th, 2014.  In addition, she's excited about the upcoming release of The MacGruder Brothers e-Boxed Set on February 24, 2015!
Diana looks forward to the years of writing ahead and meeting the amazing people who will share this journey.
Website Links:
The Oath Trilogy:  http://www.dianacosby.com/books.html#AnOath
An Oath Taken:  http://www.dianacosby.com/anoathtaken.html
An Oath Broken:  http://www.dianacosby.com/anoathbroken.html
Purchase links:
An Oath Taken purchase link: http://www.dianacosby.com/anoathtaken.html#buy
An Oath Broken purchase link: http://www.dianacosby.com/anoathbroken.html#buy