Fire Me Up by Kimberly Kincaid
 If You Can't Stand The Heat. . .new, from The Pine Mountain Series
Teagan O'Malley can handle a crisis. She's a paramedic, it's her job. But she never expected to land in the kitchen of her father's pub, with no notice, no cash, and no room for error. The kitchen is not her favorite place. Lucky for her, she just scraped a bad-boy chef off the pavement after a motorcycle accident–and something about him says he can turn up the heat in more ways than one.
Adrian Holt has had a rough few years, and he's not eager to get tangled up in anything more complicated than a good risotto. But with a broken arm and a head full of bad memories, he needs a challenge to keep him sane. Teagan's dare-me attitude and smoldering mess of a bar are just what the doctor ordered. And the two of them together might cook up some even better medicine. . .
About Kimberly: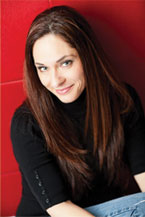 Kimberly Kincaid writes contemporary romance that splits the difference between sexy and sweet. When she's not sitting crosslegged in an ancient desk chair known as "The Pleather Bomber," she can be found practicing obscene amounts of yoga, whipping up anything from enchiladas to éclairs in her kitchen, or curled up with her nose in a book. Kimberly is a 2011 RWA Golden Heart® finalist who lives (and writes!) by the mantra that food is love. She resides in northern Virginia with her wildly patient husband and their three daughters.
_________________________________________________________________________________________
From NYT Bestselling author Beverly Barton…..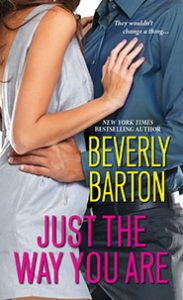 Just the Way You Are
The South sizzles in New York Times bestselling author Beverly Barton's sultry tale of a woman torn between two brothers. . .
Mary Beth Caine has always been the good girl in her small Mississippi town. But when a big, protective, shamelessly sexy stranger offers to console her on the night of her disastrous engagement party, Mary Beth lets him–only to discover that Parr Weston also happens to be the older brother of her fiance, Bobby Joe. 
Parr left Mississippi after years spent holding his family together. Now that he's back, he can't steal Bobby Joe's woman, and he sure can't offer Mary Beth the tidy happily-ever-after she deserves. But everything about the petite beauty–from her flame-gold hair to her artless sensuality–makes him crave her more. Love or lust, right or wrong, all he knows is that nothing has ever felt like this before, and walking away will be the hardest thing he's ever had to do. . .
About Beverly:
New York Times bestselling author Beverly Barton has written over thirty contemporary romance novels and created the popular "The Protectors" series for Silhouette's Intimate Moments line. This sixth-generation Alabamian is a two-time Maggie Award winner, a two-time National Reader's Choice Award winner, and a recipient of a Romantic Times Career Achievement Award for Series Romantic Adventure.
________________________________________________________________________________________
Romantic Suspense from Shannon McKenna…...In For the Kill…..the conclusion of The McCloud Series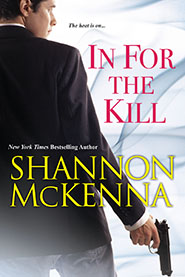 Ever since the McClouds rescued Sveti from certain death, her crusade against modern slavery has blazoned a bulls-eye on her chest, but when one of the threats against her almost hits the mark, Sam's protective instincts go into overdrive. Every lethal obstacle and trap they encounter ups the stakes–and the undeniable heat between them.
"Shannon McKenna makes the pulse pound." —BookPage
Now they're spiraling in on a deadly and explosive secret–one that could either redeem them or destroy them . . . and the closer they get, the shorter the fuse . . .
About Shannon: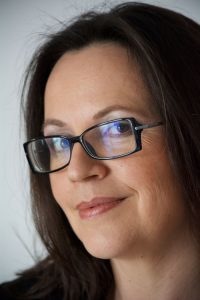 I started writing my first romance novel in secret. I was working a temp job in an insurance office in Manhattan at the time, and the office manager had made it clear that even if there was nothing to do, I still had to look busy– never one of my big talents. I felt bad about the wasted time, though, and I needed something to round out my other chosen career, which was singing. Yeah, that's right. Most artists choose a more practical Plan B to back up their improbable Plan A. Me? No way. "Long Shot" is my middle name.
So I sneakily set up a Document 1 and a Document 2 with a spreadsheet on it. If my Boss du Jour walked by I could quick-like-a-bunny switch screens, and whenever the coast was clear, I went back to my story. Not that I was slacking, mind you. If there was work to be done, I did it. The sneakiness felt familiar, though, because I've been teased about reading romances since I was a kid. I think the day I finally grew up was the day I stopped trying to cover up what I was reading on the bus, train or subway. Let people think whatever they like.
It wasn't until I moved to Italy that I got serious about writing, though. I found myself with many long, quiet days alone with nothing to do, so I slogged my way bravely to the end of the manuscript and sent it out. Everybody rejected it-except for Kensington. I wrote for them for a few years, and then made a bid for an erotic novella for the new Brava imprint, and oh joy, they accepted it. Then I wrote BEHIND CLOSED DOORS. And so on, and so forth.
That's how I started. I can't think of anything I'd rather do. I never knew it would be so scary, and so hard . . . all that solitude and silence, a blank computer screen, and no one to blame. But still. It's worth it. It's great.
ALL TITLES AVAILABLE ON JANUARY 27, 2015