Two things came to mind while chatting with New York Times and USA Today Bestselling Author Carrie Ann Ryan tonight:
She writes very, very fast.
She and I share a passion for Turtle Cheesecake…among a host of other things.
It was great sitting down with Carrie Ann to discuss her many novels and novellas, including the very popular Redwood Pack, Montgomery Ink series, and her latest novel, Wicked Wolf: A Redwood Pack Novella (1001 Dark Nights).
I'm sure her eager readers are loving this latest novel, and definitely looking forward to her next. I was hooked after reading just a few paragraphs!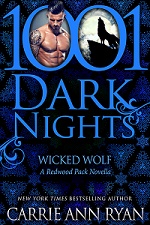 Book Blurb:
Quinn Weston's mate walked out on him five years ago, severing their bond in the most brutal fashion. She not only left him a shattered shadow of himself, but their newborn son as well. Now, as the lieutenant of the Talon Pack's Alpha, he puts his whole being into two things: the safety of his Pack and his son.
When the two Alphas put Gina and Quinn together to find a way to ensure their treaties remain strong, fate has a plan of its own. Neither knows what will come of the Pack's alliance, let alone one between the two of them. The past paved their paths in blood and heartache, but it will take the strength of a promise and iron will to find their future.
Click on the image to listen to the Podcast!
Connect with Carrie Ann Ryan on Social Media:
www.carrieannryan.com
www.facebook.com/carrieannryanwrites
Great Paranormal Fiction!