A modern day marriage of convenience with complications you may never have considered.  And we're all left asking; sperm bank or direct deposit?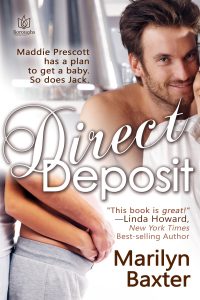 Family law attorney Maddie Prescott is driven to succeed. A pawn in her parents' messy divorce, she devoted her career to representing children in court, and when her husband's early death makes it seem like she can't have it all, she's ready to beat the odds by going to a sperm bank. One advantage to single parenthood is that her child will never be a pawn. That, and she'll never have to deal with sarcastic ladies' men or liars.
Jack Worth promised to look out for his dying best friend's wife: a small repayment for someone who once helped an irredeemable bad boy find the path to happiness. So, while Maddie Prescott's baby plans are questionable, duty and loyalty prompt Jack first to volunteer as the sperm donor…and then to propose a marriage of convenience. And the more he gets to know her, the more this onetime player will see that Maddie is the woman of his dreams, and that the child they will make deserves to be from a direct deposit.
EXCERPT
It's time to move on, Jack," she told him. "And I think it's time we stopped these monthly pity parties. We struggle to carry on polite conversation. I choke on every bite of food. You sit there feeling sorry for me. I've made some decisions in the last few weeks that will move my life in a new direction. I only hope you're able to do the same."
"Is that what the sperm canister is all about?"
Water spewed everywhere.
"How…" Her cheeks burned from embarrassment.
"The letter behind your phone. You aren't seriously considering going to a sperm bank are you?"
Maddie pushed away from the table and picked up her plate, heading toward the kitchen. "And if I am, what makes it your business?" Chagrin replaced the previous awkwardness.
Jack followed, juggling his plate in one hand as he nudged open the door to the kitchen with his elbow.
"What the hell are you thinking? You're going to get yourself knocked up by some total stranger so you can play Mommy?" He took her plate and scraped it into the sink.
"No one is knocking me up as you so charmingly put it." She crossed her arms and leaned against the counter. "The procedure is done in an office by a doctor and—"
"I know how the hell it's done."
"Oh? I wasn't aware The Playboy Channel televised medical documentaries."
"I watch The Learning Channel, too. Surprised?" He loaded the dishwasher while she looked on in amazement. "What? I'm housebroken. I'm not Emeril, but I cook a mean meatloaf and mashed potatoes." He squirted dish gel in the dispenser. "From scratch," he added.
"Quite honestly, nothing about you would surprise me, Jack. What did surprise me was my husband being in business with you. You were as different as… as…"
"Champagne and beer?" he suggested as he rinsed the sink. "Caviar and hot dogs? You and me?"
"You got that right." Maddie lifted her chin defiantly.
About the Author
In 2001, Marilyn discovered romance novels quite by accident, which led to a renewed interest in writing.  She's had over forty stories published in the confessions and romance magazines and taught a class in how to effectively write for this genre.  She is a member of Romance Writers of America and her local RWA chapter, Heart of Dixie Romance Writers.  Her involvement on the local and national levels has combined to give her a great love of the romance genre and to develop friendships that span the globe.
In addition to reading and writing, Marilyn loves to knit simple things, cook in the crockpot and garden in a few pots on her patio.  Her motto is "Have passport, will travel," and she recently added Ireland and Wales to the list of 32 states and 21 foreign countries she has visited.
A native of North Carolina, she came to Huntsville, Alabama by way of Frankfurt, Germany.  She has lived there longer than anywhere else and calls it home.  After raising two great sons, she loves to dote on her two granddaughters.  And somewhere amidst all the above, she fits in a day job as an administrative assistant for a boutique law firm.
You can find Marilyn on Facebook (link: https://www.facebook.com/marilyn.baxter.372) and on Twitter as @marilyn_baxter.  Her website is www.marilynbaxter.com.
Boroughs Website:  http://boroughspublishinggroup.com/books/direct-deposit
Amazon:  http://www.amazon.com/Direct-Deposit-Marilyn-Baxter-ebook/dp/B00SGNT2LQ/ref=sr_1_1?ie=UTF8&qid=1421730657&sr=8-1&keywords=direct+deposit+marilyn+baxter
Amazon UK: http://www.amazon.co.uk/Direct-Deposit-Marilyn-Baxter-ebook/dp/B00SGNT2LQ/ref=sr_1_1?s=digital-text&ie=UTF8&qid=1421730722&sr=1-1&keywords=marilyn+baxter
Amazon Canada: http://www.amazon.ca/Direct-Deposit-Marilyn-Baxter-ebook/dp/B00SGNT2LQ/ref=sr_1_1?ie=UTF8&qid=1421730764&sr=8-1&keywords=marilyn+baxter
All Romance eBooks:  https://www.allromanceebooks.com/product-directdeposit-1730475-177.html
Smashwords:  https://www.smashwords.com/books/view/512249