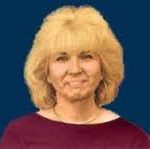 Author Marie Ferrarella has reached a writing achievement that few authors ever attain – releasing her 250th novel. She is the first Harlequin to achieve this milestone.
Harlequin, one of the world's leading publishers of books for women, is celebrating the release of the 250th title by USA TODAY bestselling author Marie Ferrarella, one of its most prolific and most popular writers. Carrying His Secret, part of the popular Adair Affairs miniseries, created by the novelist ranked #5 on Entertainment Weekly's Top 10 Romance Authors, is published under the Harlequin Romantic Suspense line.
"Marie is the first author to have 250 titles published by Harlequin," said Craig Swinwood, Publisher and CEO of Harlequin. "Few writers in the world can lay claim to such a remarkable achievement and few publishers have the opportunity to share in such success. The creativity, commitment, discipline and passion Marie has invested in creating these novels are without peer. We regard this accomplishment with immense pride and are delighted to be a part of it."
The award-winning author and longtime Southern California resident was born in West Germany to Polish parents and arrived in the United States at age four. She began writing at age 11 and received her master's degree in Shakespearean Comedy from Queens College, New York. Marie published her first book with Harlequin in 1983. Harlequin released Tried and True, in its Silhouette Desire line in December 1983, under the pseudonym Marie Nicole. She left the pen name behind for her 17th title and has been credited under her own name ever since.
Harlequin has sold 22 million copies of Marie Ferrarella titles. Her novels have been translated into 25 languages and sold in 40 countries. She has won a RITA® Award—the highest award of distinction in romance fiction—and received an RT Book Reviews Career Achievement Award.
Over 32 years publishing her work, and with eight more titles currently scheduled for release in 2015, Harlequin has issued an average of more than 8 Marie Ferrarella titles per year. "After 14 years and approximately 125 books together, I can easily testify to Marie Ferrarella's devotion to the romance genre and her overall excellence as a person," said Patience Bloom, Senior Editor, Harlequin Romantic Suspense. "There is much to admire about Marie—but one thing in particular that inspires me is that while she may have a hundred things to do, she is still writing. Very little stops her from getting down to the craft and business of writing romance. And so, 250 books and 30-plus years later, Marie still brings joy to her characters and her readers…and her editor." When asked about what motivates her to write, Marie declares "bills," before cracking up and and saying making people laugh and crediting her encouraging editors. And, despite so many books published and so much success, she doesn't take anything for granted. "Every single sale is exciting to me. I'm still surprised when someone tells me they read one of my books." As for how the beloved author plans on celebrating the release of her 250th novel for Harlequin – "By writing number 251 while grinning ear to ear."
Introducing Marie Ferrarella's 250th Novel – Carrying His Secret
USA TODAY bestselling author Marie Ferrarella unearths more scintillating secrets of the Adair family in her 250th book!
When Elizabeth Shelton finds her boss murdered, her life is thrown into turmoil. But nothing shocks her more than learning she's pregnant by the man's son. She kept her attraction to mogul Whit Adair hidden for years before their one-night tryst—and now she must keep another secret…
When the killer targets her next, Whit goes from her one-time lover to her full-time bodyguard. Taking her to his ranch for safekeeping, Whit discovers the truth about the baby. He offers his protection, but Elizabeth wants more—his love. For his child and its mother, he'll do anything—even take down a murderer…
Reader's Entertainment got to ask the author a few questions on her milestone publishing moment:  
1.       How has the romance genre changed since your first book was published in 1981?
The heroines have gotten feistier and more independent.  However, best of all (to me) is that I can now have multiple points of view. I love allowing readers to see what other people within a scene are thinking.
2.       How do you keep the writing fresh?
I have no idea. I just start working on a story and somehow, it happens. I try to find a new angle, but there is honestly nothing new under the sun, so it's just the words I decide to use that make it slightly different.  I am as much in awe of the process as anyone. When I sit down to write, I usually say I'm off to "make magic" because that's what it feels like when a scene comes together: magic.
3.       Some of your latest books are romantic suspense. Do you prefer the suspense element? Will you be writing more American Romances?
I love whatever book I am working on at the moment. Best of all, I love "having written." Writing is hard and there is always this fear that what you're working on will fall flat. But once it's actually on the screen, then I can play with it, rewrite it, change it, etc.  I confess that I love romantic suspense most of all, however I also am grateful that I am included in Special Edition line-ups and that Harlequin American Romance wants me. I am having the time of my life, typing as fast as my fingers can go.
4.       How are you celebrating???
I plan to celebrate #250 by writing #251 while grinning from ear to ear.
You can read an excerpt here. And you can get your own copy at Amazon or Barnes & Noble.