My initial reaction as I began to read Shadow of the Hawk was that the writing was fluid and graceful.  The feel, mood and era all reminded me of John Steinbeck and I was hooked from the very start.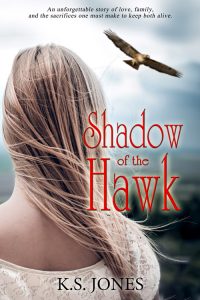 Sooze is a 16 year old girl growing up in the Great Depression.  She has agreed to marry a man she does not love in order to save her family.  She is mature for her age and you immediately feel for her.  Her character is equal parts young lady and woman and the author does such a great job showing us that and giving us a reason to love her.
When her brother is betrayed by his friend and left accused of a crime he did not commit, Sooze has to make some tough decisions.  The trial is actually quite exciting and reminiscent of John Grisham and his "A Time to Kill".
The story brings us to the desperation of an era through the eyes of a young woman ready to sacrifice everything for her family.  And when an unexpected turn of events make Sooze wonder if she should hope for love, the complications leave you on the edge of your seat!
I recommend this book to anyone who loves a well written tale with a layered main character.  If you love Steinbeck or Grisham you will love this novel.
You can find out about the author youself at www.ksjones.com