It was my pleasure, and honor to speak with Chad Robichaux this evening about his Amazon #1 Bestselling novel co-authored  with Brian Fleming, Redeployed:  How Combat Veterans Can Fight the Battle Within and Win the War at Home.  Chad Robichaux is the Vice President of Serving California over Veteran Affairs, and the Founder of the Mighty Oaks Warrior Programs, a non-profit effort. Chad and his team are dedicated to helping our America's Military Warriors and their families suffering from the "unseen wounds" of combat such as Post Traumatic Stress Disorder (PTSD).  In addition to being an Ordained Pastor, Chad is a Board Certified Pastoral Counselor with the BCPPC* & AACC* with specialty in PTSD, Trauma Care, Marriage, and Family.
**If you are a warrior, or a family member of one that wants to learn more about Chad's program, please go to: www.servingcalifornia.org, or http://www.mightyoaksprograms.org/
No Man Fights Alone!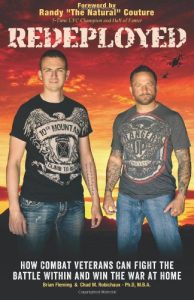 Book Blurb:
For the first time EVER, a Combat-Infantry Sergeant and a Special Operations Force Recon Marine have joined forces to equip and educate other returning combat-veterans on how to FIGHT and WIN the most common battles they face after returning home from war (PTSD, TBI, Depression, Anxiety, Isolation, Suicide, Divorce, etc). Fleming and Robichaux's roles as Resiliency Trainers for the U.S. Military have taken them to bases and installations across the globe. Throughout the pages of history, America's warriors have fought several wars abroad, but after coming home many of these warriors REDEPLOYED to a new war: A War Within. The lessons learned through war can change a person's life forever. These lessons may even change yours…
Click on the book cover for the link to the podcast!
Connect with Chad Robichaux and his programs:
http://www.servingcalifornia.org/