I had a great time this evening sitting down with Young Adult Sci-Fi and Fantasy Author, David Pilarski to talk about his debut novel, Triumph of the Spirit, his literary journey, and more! If you haven't had a chance to tune in yet, you should definitely check out our interview!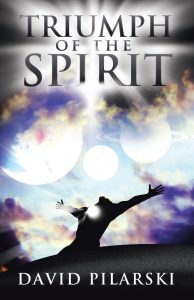 Book Blurb:
Eighteen year old Matthew has always been a dreamer living an ordinary life and yet, he sensed a special calling that he never fully understood.
But everything changed the day he noticed a flash of light across the sky while working on his grandfather's Indiana farm. Compelled to investigate, Matthew finds a mysterious metallic oval object has landed in the adjacent field. Later that night, Matthew begins to have bizarre dreams within which he encounters a guide named Samuel. Driven to discover his destiny and unlock the secret of The Oval, Matthew is thrust into a quest filled with adventure containing powerful lessons that become more personal and challenging as the path unfolds. The young man embarks on this journey having no idea how important unlocking his true potential is to the future of humankind and what awaits him if he succeeds. Nor does Matthew realize how his progression can only go so far until he must finally face himself and the darkness deeply buried within his soul.
Click on the image above for information on David Pilarski's upcoming interview!
Connect with David Pilarski on Social Media:
www.davidpilarski.com
Great Young Adult Fiction!