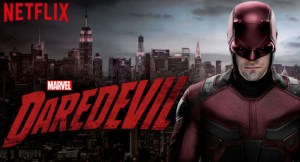 Daring TV: Positive Critical Response for Netflix's Daredevil?
By Brooke Chaplan
Daredevil is a web TV series created for Netflix in association with Marvel Television and ABC studios, and set in the Marvel Cinematic Universe which means it shares the same universe as Avengers, Thor, and Iron Man. Based on the popular comic books, this show has been met with high expectations and already has a popular fan base.
What it's About
The title character Matt Murdock (Charlie Cox), is lawyer who leads a secret life as a costumed vigilante. The series traces his origin and also depicts the rise of the crime lord Wilson Fisk (Vincent D'Onofrio) who is the main antagonist. In addition to Fisk, other major characters from the comics make an appearance including Foggy Nelson (Elden Hensen), Murdock's law partner, and Karen Page (Deborah Ann Woll).
Following with the comic book origins, Murdock was blinded in a childhood accident but his other senses were heightened. Unlike the characters of Thor or Ironman, Daredevil is a "street-level" superhero who's more likely to fight gangsters than aliens. He is far more interested in helping the people in his part of New York, and stays a local hero.
The Critics' Reactions
The series has become a surprise critical darling this past year. The website Rotten Tomatoes giving it a rating of 98% or "Very Fresh" rating.
Jonathan Hickman of Film Fix praised the series for its grittiness. He also noted the series takes a while to introduce characters and set up the plot, but he considered it good story telling, and described the series as a "slow burn" that mixes action with legal drama. He also praised D'Onofrio for his portrayal of Fisk, whom he called "one of the more disturbing Marvel villains to date."
Chris Bennion for The Independent called Daredevil "essential viewing even if you're not a Marvel fan." He liked the director's inventiveness in directing the fight scenes which he noted could have easily become repetitive. All of Daredevil's superpowers are linked to his senses, so he fights like a normal, if extremely fit, human. While Bennion praised Cox's skill in portraying Murdock's moral conflicts over his activities, he did dock the show a few points for occasionally clunky dialogue.
Joanna Robinson, a critic from Vanity Fair enjoyed the street-level aspects of the show. Since Daredevil is essentially just a very fit man, he does get hurt. He even finds an ally in Rosario Dawson's Claire Temple, a nurse who has the job of patching him up. Robinson believes that Daredevil's vulnerability actually enhances his heroism, for he's trying to protect others despite the risks to himself.
Other critics have praised the show for its faithfulness to the comics. It seems Netflix's risk has paid off in a big way garnering fans of the original comics, as well as new viewers. Already loyal viewers are showing support as seen with costumes replicated everywhere from Momocon to the New York comic con. The show continues to draw praise and is due to premiere its second season in 2016.
About the Author
Brooke Chaplan is a freelance blogger and recent graduate of the University of New Mexico. She now lives in Los Lunas where she writes and researches when she's not outside running, hiking and biking. Contact Brooke on LinkedIn.