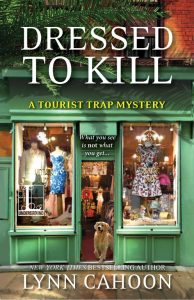 Jill Gardner—owner of Coffee, Books, and More in the tucked-away town of South Cove, California—is not particularly thrilled to be portraying a twenties flapper for the dinner theater murder mystery. Though it is for charity…
Of course everyone is expecting a "dead" body at the dress rehearsal…but this one isn't acting! It turns out the main suspect is the late actor's conniving girlfriend Sherry…who also happens to be the ex-wife of Jill's main squeeze. Sherry is definitely a master manipulator…but is she a killer? Jill may discover the truth only when the curtain comes up on the final act…and by then, it may be far too late.
DRESSED TO KILL Excerpt:
Sometimes what you see is not what you get. The small building had its doors flung open, looking more like a gaping mouth posed to devour us than the entrance into South Cove's newest and only clothing business, Vintage Duds. Pots of flowers lined the sidewalk, giving the store what should have been a homey look. My aunt nudged me, and I took one halting step closer. I, Jill Gardner, owner of Coffee, Books, and More and South Cove's business community liaison to the city council, knew a trap when I saw it. And this tastefully decorated store selling upscale designer clothing at a ridiculous price for used threads was definitely a snare.
"What is wrong with you?" Aunt Jackie snapped. "Just because Greg was married to the woman doesn't mean the two of you have to be sworn enemies."
Yep, the new store owner was my boy toy's ex. Small towns are alike. You have to learn to forgive and forget because the person you fight with—or divorce—just doesn't move away. It's more than likely you'll run into them at the grocery, or the diner, or even at a meeting you're running. Life is messy that way. I turned away from the door, ready to sprint back to my shop down the street. "Maybe I don't have to attend every Business-to-Business meeting. You could say I was sick."
Jackie gently turned me around, linking her arm in mine. "You can do this. It's just a two-hour meeting. You can do anything for two hours."
As soon as we entered the store, I knew my aunt was dead wrong.
A hostess greeted us and gave us a swag bag. Aunt Jackie cooed and opened the silk ties. "A scarf, bubble bath beads, a coupon for a free glass of wine at Darla's winery, and"—she pulled out one last item—"jewelry."
The high school student grinned. "Keep digging. There's a little something from every store in South Cove."
"Except ours. Total waste of marketing money. You're preaching to the choir with this group," I muttered. Aunt Jackie quickly closed her bag and grabbed mine, as well, tucking them both into her purse.
"We'll save those for later." She smiled at our greeter and led me deeper into the store. Two chair-massage technicians had their area set up against the wall next to an eight-foot-square portrait of Marilyn Monroe. People lined up for their turn.
Bill Sullivan, our meeting chair, waved us over to where he waited in line. Bill was a member of the city council along with running South Cove Bed-and-Breakfast with his wife, Mary. "Great meeting, don't you think? Sherry went all-out."
"Is this a meeting or a party?" I waved away another high school student who had a plate of black caviar on crackers.
"Relax, Jill. We have plenty of time to get through the agenda."
About the Author: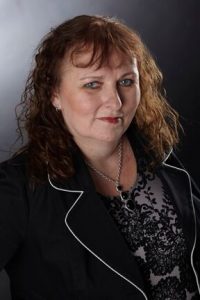 New York Times and USA Today best-selling author, Lynn Cahoon is an Idaho native. If you'd visit the town where she grew up, you'd understand why her mysteries and romance novels focus around the depth and experience of small town life. Currently, she's living in a small historic town on the banks of the Mississippi river where her imagination tends to wander. She lives with her husband and two fur babies. Learn more about Lynn by visiting her website.
You can purchase Dressed to Kill at:
Amazon
Barnes & Noble