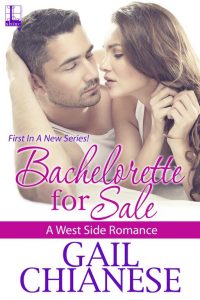 Bachelorette For Sale by Gail Chianese
This sparkling debut dives right in to everything funny, flirty, and fiery about modern dating with the tale of a sexy singles auction that comes with the prize of a lifetime…
As far as Cherry Ryan is concerned, the bright lights of Hollywood are nothing but glare after her heart is broken on a reality show for millions to see. Instead she's throwing herself into fundraising for the local community center that was a priceless lifeline to her as a kid. But when a volunteer for the singles auction bails at the last minute, Cherry finds herself on the block—and sold to Jason Valentine, a handsome contractor with a gorgeous body—and a really bad attitude about her days in the limelight…
Cherry soon finds that Jason's more than eye candy, and not entirely sweet—especially his quest to win the bid for the center's renovation. Mixing business with pleasure doesn't seem like such a good idea—until Jason has a chance to reveal the big heart beneath his surly exterior. Cherry's falling for him hard, but trust isn't easy when you've been burned. To conquer her fears will take a giant leap of faith—straight into the spotlight again…
Excerpt:
Boisterous laughter filled the air. Must have been a good joke shared between the two older gentlemen who made their way across the hotel foyer. Both wore powder blue tuxes with ruffled shirts and bow ties. At one time, say around 1970 or so, they'd have been quite dashing. Sort of like her grandfather, although he'd wear the outdated outfit now just to get her gram's goat and snub society.
"Check out the babe. Now, that's a rack," one of them not so quietly whispered to the other.
Cherry's creep-o-meter hit the red zone and maxed out. Hmm, party crashers perhaps. This wasn't a dive, and the invited guests should have more couth than to make such remarks out loud. If they weren't on her list, she'd call security and have them kicked out on their butts. For now, she'd play along and pretend not to have heard him. "Welcome to the West End Community Center Gala—"
"Say, aren't you the girl from that reality show? You know, the one with all those men fighting over you and taking you on outrageous dates? I'm surprised you didn't get them mixed up and call them the wrong name."
Inwardly, Cherry growled at the man. Outwardly, she smiled and ignored his question and comments while trying not to choke on the overdose of Aqua Velva and Bengay. "Names, please?"
"Vernon Henderson," the quieter of the two responded and then pointed to his nosy friend. "Burt Bennett."
"You look different," Burt said.
"What?" Cherry shot him a questioning look.
"Not saying it's bad. Women should have some meat on their bones."
Seriously, he just called her fat to her face? Like her scale didn't announce the fact every week. As if she needed this prime male specimen to point out her flaws. "Aren't you just the sweetest man? You remind me a lot of my grandpa. Perhaps you know him from the senior center? No? Oh, well. If you hurry you can still snag a good seat before they start serving dinner." She gave a little finger wave as Vernon pulled Burt into the ballroom.
"She's the one who caused that huge scandal with the singer fella on the show," Burt told his friend as they left.
Ouch. Couldn't say she didn't see that coming. Still, if they knew the full truth, she could only imagine how deep their comments would dig. Thankfully, only one other person knew the intimate details of what really went on, and he wasn't talking either.
About the Author: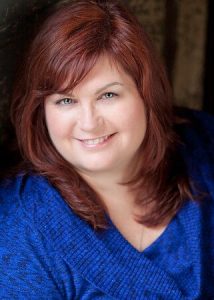 Gail Chianese's love of reading began at the tender age of three, when she'd make her grandpa read Fourteen Country Rabbits over and over and over again (and correct him when he skipped parts). While she's branched out over the years by reading mystery, women's fiction, and urban fantasy, she always circles back to romance in the end. That's probably because she's married to her real life hero. Her wonderful hubby has served in the US Navy for the past twenty two years and he's done things he can't tell her about. But it doesn't stop her from being extremely proud of him and the sacrifices he makes for her, his family, and his country. He's also uber-supportive of her dreams and of their three children. Living in Mystic, CT and a member of Connecticut Romance Writers of America, Gail loves to hear from readers. Visit her online at GailChianese.com, follow her on Twitter @Gail_Chianese, or send her an e mail at gail.chianese@yahoo.com.
Get your copy of Bachelorette for Sale at:
Amazon
Barnes & Noble