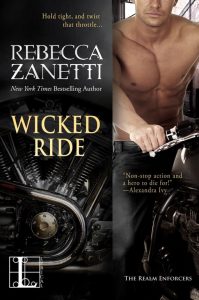 If you love the Dark Protectors, these wicked hot Realm Enforcers are for you!
Alexandra Monzelle is a hard-fighting, heat-packing Seattle vice cop, and she's not much interested in being protected. Her short skirt and sex-kitten heels are tools to lure her suspects into talking about the deadly new drug hitting the streets. She can take care of herself and then some. Unfortunately, she can't seem to get that through to Kellach Dunne.
Kellach is a fresh import from Dublin, and he's landed at the heart of a vicious motorcycle club that deals in guns, narcotics, and mayhem. He's all male, all rough power—and all interference in her damn investigation. Maybe he's one of the good guys. Maybe not. Lex knows an affair with an immortal like him would risk everything. No matter how delicious he looks…
Excerpt from WICKED RIDE:
Kellach Dunne held his fire and turned the corner, keeping his prey in sight. Rain smattered the concrete sidewalk in a weary Seattle fashion, while garish lights from bars and massage parlors marred the comforting darkness of the midnight hour. He stepped over the legs of a bum and ignored the stench of piss, absently wishing for his bed and a good night's sleep.
He'd left his Harley parked in a side alley to follow the bastard who stalked a woman through the city's underbelly.
The woman scurried ahead, glancing over her shoulder, her instincts obviously kicking in. Her tight neon blue mini-dress hampered her movements, but he could appreciate the outfit—the kind that curved in just under the ass. The woman had a hell of an ass.
Too bad she tottered in five-inch heels and from what smelled like Fireball whiskey.
He opened his senses to the night and the universe, scenting what humans couldn't even imagine. Yep. Fireball and tequila. Dangerous combination. Although a lingering smell, just under the surface, sped up his blood.
Woman. Fresh and clean … all woman.
The man ahead of him stank of body odor, dime store cologne, and cigarette smoke. And something else, something that made Kellach's temples pound.
Damn it, hells fire, and motherfucker. The bastard had taken the drug. The human had somehow ingested the drug right under Kell's nose.
Kell had hung out in the Seattle underground bar for nearly a week, and somehow, the dealer had gotten past him. No wonder the foul smelling human was hunting the woman. He wouldn't be able to help himself.
She broke into a run, surprisingly agile on the heels. As she reacted to the imminent danger, she leaped over a mud puddle and turned down a barely lit alley.
Why the fuck did they always run down an alley? Shaking his head, Kellach increased his strides while the human male in front of him did the same. Idiot didn't even know Kellach tracked him.
Dim light from the upper apartments filtered down through the fog to barely light the way, although Kell could see fine in the dark. The woman ran by two overflowing dumpsters, a couple garbage cans, a cardboard box housing a vagrant smelling like marijuana, and an odd arrangement of yellow flower pots perched on the back stoop of a porn shop. She reached the end of the alley blocked by a brick building and whirled around.
Gorgeous. Meager light shone down, highlighting a stunning face. Even with a ridiculous amount of blue eye shadow, pink blush, and bright red lipstick, she was a looker. Deep blue eyes, the color of the witching hour, stared out from a fine-boned face.
A woman like that not only didn't belong in a fucking alley … she didn't belong in the bar she'd just left.
About the Author:

Rebecca Zanetti is the author of over twenty-five dark paranormals, romantic suspense, and contemporary romances, and her books have appeared multiple times on the New York Times, USA Today, Amazon, Barnes and Noble, and iBooks bestseller lists.  She lives in the wilds of the Pacific Northwest with her own Alpha hero, two kids, a couple of dogs, a crazy cat…and a huge extended family.  She believes strongly in luck, karma, and working her butt off…and she thinks one of the best things about being an author, unlike the lawyer she used to be, is that she can let the crazy out.  Her current series are: The Dark Protectors, The Maverick Montana Cowboys, and the Sin Brothers series.  Upcoming series are: The Realm Enforcers and The Scorpius Syndrome.  Find Rebecca at:  www.rebeccazanetti.com
You can purchase Wild Ride at:
Amazon
Barnes & Noble