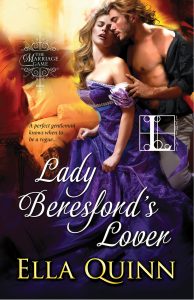 Lady Beresford's Lover by Ella Quinn
Ella Quinn's bachelors are quite sure of what they want in life—and love—until the right woman opens their eyes…
After a painful heartbreak, Rupert, the handsome young Earl of Stanstead, has decided that when it comes to love, avoidance is best. Until he meets a woman who makes him forget his plan—and remember his longing for a wife and family. Yet he senses that she too has been hurt, though she attempts to hide her feelings—and more—in the most baffling and alluring way. Intrigued, Rupert is willing to play along, if winning her is the prize…
Crushed by her late husband's scorn, Vivian, Countess of Beresford, believes she is monstrously undesirable. Sadly childless, she has moved to London resigned to a solitary life. Still, when she encounters Rupert at a masquerade ball, her disguise as Cleopatra emboldens her. Convinced he doesn't recognize her, she begins an after-hours affair with him, always in costume—while allowing him to innocently court the real her by day. But when Rupert makes a shocking choice, will Vivian be able to handle the truth?…
EXCERPT:
This is the first meeting between my hero, Rupert, Earl of Stanstead, and my heroine, Vivian, the widowed Countess of Beresford.
He sucked in a breath. One of the women wore a pale, almost ice-blue gown. Her curls were silvery, much like he'd imagined the color of the snow maiden's hair in a fairy tale his mother had read to him. When the lady glanced at him he could see her eyes were of the same deep blue as the trim on her gown, and the color of the deeper waters he'd seen in the Mediterranean Sea. Not in her first blush of youth, her cheeks were no longer plump. But not that old, perhaps close to his age. She had turned her head toward her neighbor, and her determined chin firmed. God, she was even more beautiful than he'd imagined. Who was she? Rupert was quite sure he'd never seen her before.
He gave himself a shake. Standing there like an idiot wouldn't do him any good at all. He'd never been shy about meeting a lady, yet he couldn't stop himself from staring at her. What would happen when they were introduced? Would she be as fascinated by him as he was by her?
He prayed she wasn't married.
Vivian had the strangest sensation she was being watched. She glanced up and fought to control her countenance. It was him! The gentleman from the park. She was sure of it, and he was staring at her. Their gazes met, and he held hers as he strode forward, apparently not seeing either the footmen who darted out of his way or the other guests attempting to draw his attention.
He was taller than she'd thought, had a strong face with lean cheeks and strong bones. His aristocratic nose was blade straight, reminding her of an ancient Greek or Roman. He carried himself with ease, as if he was the master of his life and the world around him. At first he appeared to be in his early thirties, but when he came closer, she could see no lines bracketing his well-defined lips or marring his smooth brow. The gentleman appeared good-natured, as if a grin hovered permanently around his mouth. In time, she imagined his eyes would have smile lines.
When he reached her small coterie he bowed to Phoebe. "My lady, always a pleasure to see you again."
Phoebe smiled at him. "You will soon rival Kit and Robert in your address, my lord."
Vivian did not know who Kit was, but the only Robert she had been introduced to was Lord Beaumont. The grin Vivian had known was not far away graced the gentleman's lips. "Ah, Featherton is the standard to which all gentlemen aspire. I am a mere pretender to his throne." The man's gray eyes twinkled. "As for my cousin, I trust I have surpassed his address already."
He did resemble Lord Beaumont to a large degree. Both gentlemen had classic good looks, but this man appeared—Vivian searched her mind for the word . . . vital. He had an energy about him she did not see in most gentlemen of the ton. Even young men, such as he must be, contrived to appear fashionably bored.
"Please introduce me to your friends, my lady," he said to Phoebe as he glanced at Vivian.
About the Author: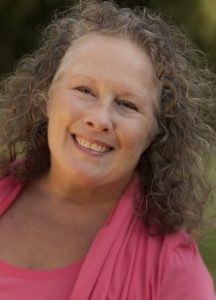 Bestselling author Ella Quinn's studies and other jobs have always been on the serious side. Reading historical romances, especially Regencies, were her escape. Eventually her love of historical novels led her to start writing them. She has just finished her first series, The Marriage Game, and her new series will start in April 2016.
She is married to her wonderful husband of over thirty years. They have a son and granddaughter, one cat and a dog. After living in the South Pacific, Central America, North Africa, England and Europe, she and her husband decided to make their dreams come true and are now living on a sailboat cruising the Caribbean and North America.
Ella is a member of the Romance Writers of American, The Beau Monde and Hearts Through History. She is represented by Elizabeth Pomada of Larsen-Pomada Literary Agency, and published by Kensington.
You can purchase LADY BERESFORD'S LOVER at:
Amazon
Barnes & Noble
You can find Ella Quinn online at:
Website
Facebook
Twitter
Blog