From hot to cold to hot again, author Tressa Morris Hern takes her readers on a ride they'll never forget with her new novel Shivering Heat.  We caught up with Tressa recently to talk to her about her book and herself.
Question:  Tell us the synopsis of your book.
Tressa:  Elyse August is beautiful, ambitious, and intelligent. The reality is that she needs to find meaningful employment soon, like most college graduates. She struggles with the memory of a past trauma that few know about. The memory of that night is never far from her mind. She is prone to snap from carefree and happy one moment to full blown anxiety attack the next. It's exhausting.
Five years ago, she and her boyfriend, Alex, were attacked and brutalized during a home invasion. Their attackers were after something; this wasn't a random crime. She's still dealing with open wounds in her soul from that horrifying experience. She survived the attack, but their relationship didn't. After being abandoned by her boyfriend, she struggles to trust.
When she meets the magnetic Reid Jamison, successful architectural consultant and philanthropist, she's tempted to out her past behind her and try again. Her best friend, Penne, encourages her wounded friend to go for it with the handsome Reid. Soon, Elyse and Reid are on an erotic adventure to experience desire, jealousy, loyalty, and big business within the Blysse Building in Chicago.
Can this drop-dead-gorgeous man help her forget her past–or will private demons destroy any chance at happiness at his side?
Question:  What do you feel is the most unique aspect of your story?
Tressa:  I was driven to write real characters and address human behaviors under different stressful conditions. I wanted aspects of coping with ones flaws and issues to be seen as a normal thing. To have a friend be honest with you and tell you to get it together. I wanted the real aspects of competition for a love interest to be funny and even catty at times. In the process of writing this book I was pushed to study the reactions of a single occurrence and the widespread ramifications in story-telling. I hope that I accomplished some of that. I think Shivering Heat looks at some of our less admirable qualities, like jealousy, possessiveness, anger and revenge in a way that softens the impact of those very real qualities that we all feel.
Question:  Tell us about your main character(s).
Tressa:
Elyse August: Young and on the verge of change. She's intelligent loyal and beautiful but she would never say that she was. Ready to break free of the past and it's affect it's had on her personal life.
Penne Cates: Honest to the point of embarrassment. Loyal and a pit bull as a friend. She's been by Elyse's side for years now. She's funny, extroverted and flirtatious.
Sam Matthews: College friend of Penne and Elyse since early days. Feels responsible for the robbery has kind of stayed away from the girls. He's struggling. The girls are unsure of what's going on. He has a temper. He's tall, beautiful and responsible in a boy-scout sort of way.
Reid Jamison: The guy that shakes up Elyse's existence. He's successful, drop dead sexy. He's a sought after man, rich, unquestionably powerful. He has secrets that he doesn't feel he needs to share until absolutely necessary. He's athletic and approachable.
Max Connors: Penne's boyfriend. Big muscular body. Sweet as a teddy bear. Playful and head over heels for Penne.
Mark Pullman: Max's co-worker and friend. Has an interest in Elyse. He has 'pretty green eyes' that he gets Elyse to change to 'sexy'. He's muscular. Flirts subtly with Elyse and wants her to want more with him. Patient and bold.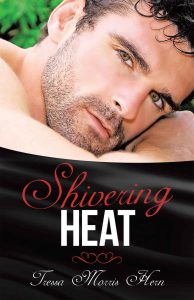 Question:  What genre(s) is this and who do you think will enjoy reading it? (type of audience)
Tressa:  According to the publisher it is FIC027010. I would say that Shivering Heat is a modern day romance. It has mystery, comedy, drama and sex. I would say a mature audience would enjoy reading this, primarily women.
Question:  Have you received any feedback on it yet, and if so, what was it?
Tressa:  I have had some. Primarily positive even though a lot of it has been by word of mouth. I was happy to hear that "I couldn't put it down" and "I hope there is a sequel Reid is so luscious." I have had some negative which is to be expected. I was also told that my sex scenes were too technical by an ARC reader. I think you need to look at the honesty with open eyes and just try to do better. I take it all with a few grains of salt. Honestly I didn't come out of the 'first time author' gate thinking I would write a Pulitzer winner, I did come out of that gate hoping that "Shivering Heat" was entertaining and worthwhile.
Question:  Tell us something about yourself that most of your readers may not know.
Tressa:  This is the first time I have been asked a question like this. Family is the most important aspect in my life. I've been through many physical hurdles that I believe has molded me in many ways, no more than a lot of others though. I suppose my point is that I'm like you. I'm not unapproachable. I love pretty glass, I've collected some very nice dishes. Most of it is Depression glass that I have added to my Grandmother's collection. I make a mean jar of kosher dill pickles and my apple butter is said to be pretty good too. I love making large family meals.
Question:  What's next for you?
Tressa:  Next? I am writing a companion book for 'Shivering Heat.' I am taking it one word at a time. I have some ideas simmering on the back burners. I am anxious to get more feedback about Shivering Heat so that I can improve my craft and get a good idea of what is appreciated about my work.
Question:  Where can people interact with you and find out more about you and your books?
Tressa:  I have a Facebook author page. Tressa Morris Hern. It's relatively new but I can be reached there. I respond in a timely manner and enjoy the comments and posts.  And at  http://tressamorrishern.com.