My first guest in 2016, was one of my best friends, Renee Bernard. It was great to sit down and chat with her, and as usual, when the two of us get together, you never know what's going to happen! Renee is an award winning and USA Today bestselling author of historical romance and recently, contemporary romantic comedy.  She's won RT's Reviewer's Choice award for "Best Debut Historical" a few years ago, and hasn't slowed down since. By the end of 2015, she has penned over sixteen novels, and several novellas. Renee has published with Simon & Schuster and Berkley, as well as branching out into independent publishing, audio books and comic books.  For over four years she has been the host of "The Romance Bookmark" (formerly "Canned Laughter and Coffee"), a weekly internet radio show, like mine, from Reader's Entertainment. We didn't get a chance to talk about her wine wrangling, or stand-up comedy too much, but we did talk about a few of the things that matter most to Renee: Her true (unabridged) version of why she became an author, what she's passionate about when it comes to characters, family, and of course, her upcoming labor of love, the Historical Romance Retreat, September 22-25, 2016 in Spokane, Washington! It's going to be all about the readers at this must-attend event!  For registration details go to:http://www.historicalromanceretreat.com/
In between laughs and fun stories, we did chat about her latest novella in A Very Matchmaker Christmas anthology, and her independently published Historical romance, Blind Aphrodite. Set in 1780, her latest novel, Blind Aphrodite, is a twist on Beauty and the Beast like no other, this is a love story for the ages that proves that when love is blind, anything is possible.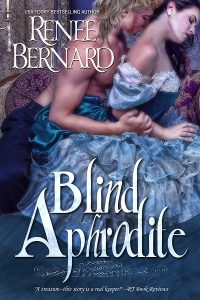 Book Blurb:
Lady Claire Aylesbury is beautiful, strong-willed and blind. When her twin brother, Edward, mysteriously disappears in the revolution-torn American Colonies, she is forced to venture out to find him, desperate to escape a limited future and the threat of a loveless marriage. Captain Rutger Grayson has turned his back on the world, unable to accept the scars that fate has inflicted. The once dashing buccaneer struggles to shield his heart as Claire draws him into a world of intrigue and danger. He seeks only to protect her against cruel betrayal without surrendering his soul.
Click on the book cover image to listen to the Podcast!
Connect with Renee Bernard on Social Media:
www.reneebernardauthor.com
https://www.facebook.com/ReneeBernardAuthor
Great Historical Fiction!