Silk and Decadence
From the Over the Knee Anthology
There is always fun in the club, but taking the fun outside and into life might be exactly what's needed for a lifetime of passion.
Sadie never claimed to be a good girl. She loves to be at Push, a local dance and BDSM club, but she longs for more—especially with her favourite playmate, Master E. The blond-haired man with the sparkling brown eyes is everything she wants in a Dom. Too bad he's also her boss at Delight Tonight. Their chemistry in the club is off the charts. Will that same passion translate into the real world or are they destined to crash and burn?
Elias likes his no-strings life, except when he visits Push and plays with S. She responds to him and the spankings like no other and makes him want to break his rules. He longs to reveal his identity to S, but the risks could outweigh the reward. Besides, there's the sweet waitress at Delight Tonight who has caught his eye. Would he be able to choose between the two women?
He's about to find out just how decadent a little complication, complete with silk and spankings, can be.
Excerpt:

"I'm alone." God. The words sounded so awful in her own ears. Yes, she was alone. Perpetually the single girl. She bit back a sigh. No need to look desperate tonight.
"I'm sorry to hear that." He slid his hand down to hers and took a step back. "You look wonderful. The burgundy brings out the green in your eyes."
"Thank you," she managed, through her shock. He'd noticed the color of her eyes? Wow.
"Did you come for the dancing?" He glanced out at the crowd. "I'm not much for the music. Too loud." He turned his attention back to her, then placed the empty shot glass on a nearby empty table. "I thought I'd like to play. Interested?"
"But your dates—won't they be looking for you?"
"My dates?" He smiled and tipped his head until he rested his forehead on the top of her head. "The girls are here to schmooze. I'm not."
She fought the urge to snuggle against him. The nearly foot difference in their heights had drawn her to him. She preferred a man who could dominate, but still possessed warmth. Far as she knew, he fit her bill.
E slid his fingers into her hair. He snaked his free arm around her, holding her to his chest. "Would you like to come with me?"
"Yes," she said. She didn't need to think about the answer. Her heart and her body both knew where they wanted to be—with him.
"Good girl." He kept his arm around her, then led her to the small corridor at the back of the room. A bookcase that didn't appear to have any purpose hulked at the end of the hallway. Master E touched one of the books and the bookshelf slid to the side, revealing a doorway. A small privacy window opened.
The person on the other side of the window said something, to which Master E replied, but she couldn't hear what they'd said. He must've given the right code word because the door opened, allowing them into the secluded part of the club.
Master E kept her tight to his side and escorted her to one of the private rooms. She'd been in the BDSM part of the club a handful of times, but never played. She had her heart set on one man—Master E.
"Now, I've asked you to play, but I haven't formally asked you." He stopped at one of the doors. "Do you wish to play with me? To entrust me with your pleasure and safety as well as to treat you with the utmost respect and honor?"

Silk and Decadence Available at:
Totally eBound
All Romance eBooks
About the Author: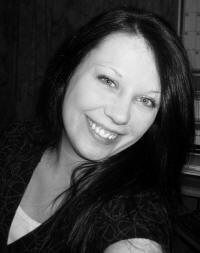 I've always dreamt of writing the stories in my head. Tall, dark, and handsome heroes are my favorites, as long as he has an independent woman keeping him in line.  I love playing with words and letting the characters run wild.
NASCAR, Ohio farmland, dirt racing, animals and second chance romance  all feature prominently in my books.  I also write under the pen name of Megan Slayer. I'm published with Ellora's Cave, Total-E-Bound, Changeling Press, Liquid Silver Books, Turquoise Morning Press, Decadent Publishing.   Come join me for this fantastic journey!
You can learn more about Wendi and her books by visiting her online at:
Website
Facebook
Twitter
Goodreads
Pinterest