Can she trust this player with her heart?
Ever since experiencing a childhood trauma, reclusive artist CC Calhoun has suffered from panic attacks. But when a fateful kiss from handsome wide receiver, Kevin "Tuck" Tucker, is enough to stop one of those episodes cold, she wonders if guarding her heart has been the right choice. Will going on a test date with Tuck open her to trusting someone for the first time in years? Or will she wind up being just another notch in the football player's bedpost?
Tuck has a reputation for charming women into bed, but after his kiss with CC, he's left aching for more. When he proposes a second date, his attraction to the sexy blonde looks like the makings of true love—something he's never quite believed in—until now. But when Tuck discovers CC's childhood secrets, will the pro athlete be tough enough to stay by her side—or will he betray her hard-earned trust?
EXCERPT:
He's kissing me. The Beantown Gigolo is freaking kissing me! On the sidewalk. In Manhattan. In broad daylight! Holy hot lips!
She waited for the surge of panic, but pleasure held sway as his silken tongue rubbed against hers, retreated, returned, and retreated again. With a final, gentle nibble of those magical lips, he broke the kiss and lifted his head.
She couldn't prevent the shuddering sigh, didn't even try. Lethargy, heavy and warm, dragged at her. A moment passed before she could open her eyes. Like twin funhouse mirrors, the lenses of his glasses reflected her pale image.
"You okay?"
Hanging suspended in his arms, she blinked at him. Was she okay? How was she supposed to answer when she had no idea? He'd scrambled her brain, managing something she'd never been able to achieve on her own. Her breathing remained erratic and shallow, but she wasn't sprawled on the sidewalk in a dead faint, and her body hummed with undeniable pleasure. Overall, that qualified as more than okay in her book.
"I—" Was that her voice, all breathy and hoarse? "Uh… I'm fine."
He dipped his chin, and above his glasses, his steady blue gaze moved over her face in a slow survey. She swayed as he slid his arms from around her, and he gripped her shoulders with his large hands.
"Glad to hear it, but what about me?"
Guilt ricocheted down her spine. Caught up in the remnants of childhood nightmares and then that unprecedented kiss, she'd forgotten all about their fall. Had he been hurt? The possibility hadn't crossed her mind.
She eyed his squared chin but found no evidence of damage from the impact with the back of her head. Likewise, his body received a quick study. As solid as he appeared, an injury didn't seem likely. Patently refusing to think of one prominently solid body part swelling beneath her butt, she squinted her eyes in suspicion. "What about you?"
The clenched line of his jaw softened with his chuckle, and he released her shoulders. "I just sacrificed my body so you wouldn't be hurt, not to mention that little mouth-to-mouth exercise. I deserve a thank you, at least, if not an introduction."
"Sacrificed your bod—" She snapped her mouth shut and pressed her lips together. Rattled, she'd forgotten the kind of man she was dealing with. Give a player an inch and he'd demand a mile. Okay, he was right about the apology. She owed him one. A big one. But an introduction? Not in this lifetime.
"Look, I'm embarrassed, and I don't think clearly when that happens."
He cocked his head and waited.
"Thank you for catching me."
"And?"
"And good-bye."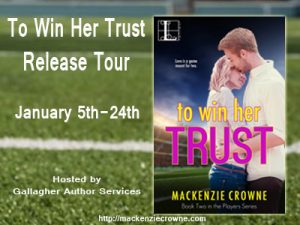 Time to go. Any further conversation would inevitably lead to why that mouth-to-mouth exercise had been necessary. She spun away and tugged a lagging Walter down the sidewalk, not surprised when her unwanted savior slipped up beside them. He matched her stride for stride but said nothing.
Half a block later, she couldn't take it anymore. She shot him a sidelong glance. "What?"
"I'm still waiting for my introduction." He ruffled long fingers over Walter's muscled back and grinned. "You may be a violation of the city ordinance, pal. I'm not sure this neighborhood is zoned for livestock."
A smile wanted to form. She squelched the urge. Yeah, the guy was charming and his kiss had magical powers. He was also a player. She sped up her pace, to no avail.
"I'm Kevin Tucker, by the way."
Curiosity got the better of her. "I thought your name was Keith."
"Keith?" Confusion flitted over his bad boy features before a deep rumble began in his wide chest. His humor welled to become a full-throated laugh. Disturbed by the shiver of awareness at his obvious pleasure, she frowned.
"I'm flattered you were paying enough attention to catch my name, but it's Kevin." He nodded back toward the coffee shop. "Lisa was handing me a little payback by getting my name wrong."
"Which you deserved."
"Yeah, I did," he said without hesitation and smiled. "But I'm a victim of extenuating circumstances. A dog really did eat the slip of paper with Lisa's name and number."
Her breath expelled in a scoffing huff. "Give me a break."
"Cross my heart." He backed up the claim with a finger slice across his chest.
Suspicious, she studied his innocent expression. "That excuse wasn't just a dating version of my dog ate my homework?"
He shrugged and shook his head. "If you'd ever met Murphy, you'd understand."
"Murphy?"
"An idiot mutt." His chuckle skittered over her nerve endings, making them tingle. "So, I'm Kevin, and you are…?"
She stopped short. He halted beside her.
She sighed. "You're not going to leave me alone until I tell you, are you?"
He faced her and crossed his arms.
"If I tell you, will you go away?"
He hesitated at the request but finally nodded.
"CC Calhoun." She scowled. "Happy now?"
He moved quickly. Snatching up her free hand, his strong fingers kept her from pulling back. He bent to brush a whisper of a kiss over her knuckles, and the fine hair on her arms stood at attention. He straightened, and as though fully aware of the unexpected but completely pleasurable flash fires sparking throughout her body, a small smile curled the corners of his lips. He released her hand slowly.
"A pleasure to meet you, CC Calhoun." Tapping a fingertip to the brim of his cap, he walked away.
You can purchase To Win Her Trust at:
Amazon
Barnes & Noble
Kobo
Buy links via Kensington: http://www.ekensingtonbooks.com/author.aspx/31681
About the Author:

Wife, mother and really young grandmother, Mackenzie lives with her high school sweet heart husband, a neurotic Pomeranian, and a blind cat. She calls Phoenix home because the southwest feeds her soul. Though her friends claim she's a princess, she disagrees. After all, one can't raise two rambunctious boys to wonderful men without getting a little dirt under their nails. A lover of the romance genre, her resolve to share her stories with others was sharpened by a bout with breast cancer. Today she is an award-winning author and eight year survivor, living the dream. Her friends call her Mac. She hopes you will, too.
Connect with her at:
Website
Facebook
Twitter