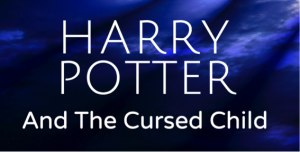 In a just released announcement, author J.K. Rowling's agent, The Blair Partnership stated they would be new launching titles from the author's Wizarding World.
The first title to be released is "Harry Potter and the Cursed Child Parts I & II", which will be first released as a rehearsal edition of a stage play, and will be produced for London's Palace Theatre.
Scholastic's U.S. and Canadian imprint Arthur A. Levine Books will publish the hardcover version which is expected to retail for $30 U.S. The book will release one day after the stage play open, July 31st. The digital edition will be available to fans on Rowling's Pottermore website on opening night.
The stage play is based on a story co-authored by Rowling, Jack Thorne and John Tiffany and opens nineteen years after Harry Potter and the Deathly Hallows. Harry is now a husband, father of three and an employed by the Ministry of Magic. Harry's past collides with his new life and especially affects his youngest son, Albus.
"As the U.S. print publisher, Scholastic introduced Harry Potter and J.K. Rowling's Wizarding World to American readers nearly 20 years ago and experienced firsthand the anticipation and excitement of the publication of each of the books over the years. We are thrilled to publish Harry Potter and the Cursed Child this summer, " said Ellie Berger, president of Scholastic Trade.
Additional titles to follow include: Fantastic Beasts and Where to Find Them (2017), an illustrated volume of Harry Potter and the Chamber of Secrets, illustrated by Jim Kay (October 2016); a feature film adaptation of Fantastic Beasts and Where to Find Them (screenplay written by Rowling), scheduled for release on November 18, 2016.
Additional details from J.K. Rowling's website:
Based on an original, new story by J.K. Rowling, Jack Thorne and John Tiffany, Harry Potter and the Cursed Child, a new play by Jack Thorne, will receive its world premiere in London's West End in the summer of 2016 at the Palace Theatre.
Produced by Sonia Friedman Productions, Colin Callender's Playground Entertainment and Harry Potter Theatrical Productions, tickets for Harry Potter and the Cursed Child will go on public sale this autumn, details of which will be announced summer 2015 and will be shared on the official website, in late July.
Directed by John Tiffany with movement by Steven Hoggett, Harry Potter and the Cursed Child will have set designs by Christine Jones, costumes by Katrina Lindsay, lighting by Neil Austin, music by Imogen Heap, sound by Gareth Fry and special effects by Jeremy Chernick.
For full details go to www.harrypottertheplaylondon.com