One thing I learned while chatting with Bestselling author Hildie McQueen…she loves action, romance, and writing endearing stories about love that's found in unusual places. Her latest novel, Judith, Bride of Wyoming, and book 44 in the American Mail-Order Brides series. Hildie writes in the Western Historical, Highland Historical and Contemporary Romance genres, so there's something every reader can enjoy. Her latest novel is about a Mail-Order Bride. It's a heartwarming story with an unexpected twist!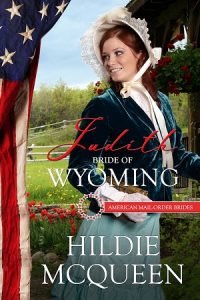 Book Blurb:
Judith Hamilton arrives in Casper, Wyoming to find the man she is to marry has died. When offered a position as a caregiver to the town blacksmith's child, she quickly accepts, only to find the offer includes marrying the father.
Sean Montgomery can't believe the answer to his prayers arrives so unexpectedly. That he has to marry the beautiful woman is not much of a sacrifice.
Click on the book cover to listen to the Podcast!
Connect with Hildie McQueen on Social Media:
Facebook: https://www.facebook.com/HildieMcQueen
Twitter: https://twitter.com/HildieMcQueen
Instagram: @HildieWrites