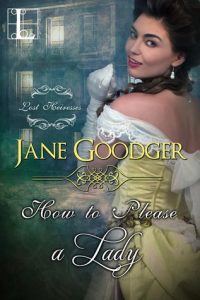 HOW TO PLEASE A LADY by JANE GOODGER
Run though they might, love will find them…
Lady Rose Dunford is shocked–and titillated–by the number of female visitors coming and going from her mysterious new neighbor's Manhattan brownstone. Recently widowed by the death of her very sweet, but not very exciting husband, Rose finds it difficult to imagine just what the attraction could be.
And then she meets the bachelor in question. Not only is Charlie Avery dashing and outrageously good looking–she knows him! He is none other than the man who once helped her escape the dreary matchmaking plans of her father, the man she once dreamed she could love. Can Charlie's presence next door be an accident? Or has he come to show her everything he has learned about…
EXCERPT:
Charlie tugged on his shirt, the fabric snapping with his frustration. He wanted to help Lady Rose, he truly did. But he was going to be in steerage with hundreds of other men, not crammed in a small room with a woman. A desirable woman whom he happened to love more than life itself. "I'll be in steerage with the other lads," he said.
"Oh." Then she pulled out a pamphlet, and Charlie instantly knew what it was—his pamphlet for the White Star Line. She held it out, one finger pointing to the print. "It says here that they accommodate married couples."
Charlie's entire body stilled, and for a count of five, he couldn't take in a breath. "You want us to marry?" he asked cautiously, hating that rush of joy that had him sitting abruptly on his bed, for in that moment, his legs couldn't be trusted to hold him. "I'd be more than happy to, my lady, if need be."
Lady Rose let out a laugh. "Goodness, Charlie, you should see your face. The situation is not that desperate. We could pretend to be married."
Charlie forced out a laugh, feeling foolish. "Of course. Scared the living daylights out of me." What the hell had he been thinking?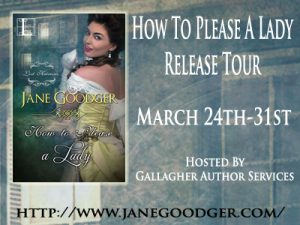 "I would never do that to you, Charlie," she said softly. "My plan is to marry Daniel Cartwright. He's an American who was just here for my engagement ball. He's a delightful man with a promising career in politics and he needs a wife. I will be that wife."
Charlie raised one brow. "Does he know that?"
"Not yet. But I'm confident I can convince him. Please, Charlie, say you will let me come. I can't bear the thought of marrying Weston." Her eyes filled with tears, and had it been any other woman standing there, he would have thought she was trying to manipulate him. But he knew she truly loathed and feared Weston. The man was a pig, and Charlie knew he would do anything in his power to protect her from him.
"Fine," he said, sounding angry. "You can come with me. But when we get to New York, you're on your own, understood?"
Lady Rose grinned. "Understood."
"And you know where you're going when you get to New York?"
She nodded. "I have his address. Oh, thank you, Charlie." She hugged him and he thought he just might die if he didn't wrap his arms around her, but he didn't, and so he did die, just a little bit.
You can purchase How to Please a Lady at:
Amazon
Barnes & Noble
Kobo
GooglePlay
Kensington Books
About the Author: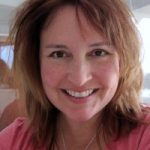 Jane Goodger lives in Rhode Island with her husband, three children, Chihuahua, one-eyed cat, and a ferret. She works full-time, and operates an editing service in between writing Victorian-set historical romances. In her free time (hahahaha), Jane watches HGTV and dreams of fixing up her 1940s colonial. A former journalist, Jane has lived in Virginia, Washington, D.C., and Pozzuoli, Italy. Follow Jane online at:
www.janegoodger.com
www.facebook.com/janegoodgerbooks
@janegoodger