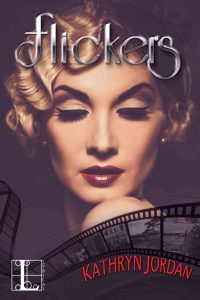 Flickers by Kathryn Jordan
Set in the dynamic years leading up to the Roaring Twenties, Flickers turns its lens on California's glamorous silent film era, as Victorian civilities are swept away by a bold new century . . .
Violet Winters is the daughter of one of California's wealthy robber barons.  Jack Sutter is the gardener's son.  In their youth, the two were inseparable. But in 1913 everything is changing, and despite their feelings for each other, adulthood has come between them. Their vastly different social positions leads Violet to marry the aloof but socially perfect Maury Rediston. Jack vows to win Violet back while carving out a new life for himself in the burgeoning motion picture industry.  Tip Rediston, Violet's brother-in-law, also gets drawn into the bohemian world of the flickers. As handsome as he is troubled, Tip starts his climb to stardom despite his family's disapproval.
But as social changes, political upheaval, and war change the world around them, Violet, Jack, and Tip learn that things are never as easy as they seem on the silver screen. . .
EXCERPT:
On a Monday afternoon in 1913, the dressmaker, Mrs. Pruitt, brought the wedding dress out from town for Violet's final fitting. Violet's mother, her cousins, and her aunt crowded into Violet's pink and white bedroom to watch. Gertie, Rosie, Jane, and May perched on the canopied bed or sat on the pink velvet cushions in the window seat while Aunt Eustacia sat ramrod straight in an armless chair and stifled small yawns. Violet's mother leaned back in her heavy wooden invalid chair. Now and then she dabbed her temples with a handkerchief damp with perfume, but she smiled the entire time.
Violet stood in the middle of the Aubusson carpet while Mrs. Pruitt and her assistant, Maggie, dressed her like a doll.  They helped her take off her white afternoon frock and handed it to her maid, Guadalupe Sanchez. The dress came with a white silk and lace chemise, but in the heat of a California afternoon, Violet was sweating.
"If I put that on," Violet said, "I'll ruin it. I'm perspiring."
"Violet!" Aunt Eustacia said. "Ladies merely glow. They never perspire."
"Think cool thoughts, darling," Mama said. "Try to stop."
"We'll leave your cotton chemise on, dear," Mrs. Pruitt said. "Just raise your arms."
Maggie adjusted hot, scratchy dress shields in Violet's armpits to soak up the inevitable glow. With a flourish, Mrs. Pruitt held the dress itself against her ample bosom and stepped back to allow everyone to see.
The dress had a wide collar of hand-made Venetian lace, a lace inset over the shoulders, and lace ruffles at the ends of wide lace sleeves that hung to her elbows. The satin bodice was tucked, then beaded with pearls in a floral pattern. From the heavily embroidered waistband, the skirt flowed in yard after yard of lustrous satin in sixteen gores, every seam beaded with pearls. The sweeping train was embroidered with a design of lilies-of-the-valley, Violet's favorite flower. Gertie and May heaved simultaneous sighs.
"You're so lucky, Vi," they said, almost in unison. "Lucky lucky lucky!"
Violet arranged a smile for an answer. She loved the dress, certainly.  But the groom — I guess I'm lucky. Her mind kept threatening to remind her of someone else.
Violet knelt to let Mrs. Pruitt put the dress over her head, then stood while the dressmaker helped her place her arms into the sleeves. While Maggie smoothed down the skirt, Mrs. Pruitt buttoned up the long line of pearl buttons in the back.
"Fits very well," Eustacia said approvingly. "Mrs. Magnin couldn't have done better, Mrs. Pruitt."
Mrs. Pruitt blushed at being compared to the most famous seamstress in all California.
"It's beautiful," Mama pronounced, "and so are you, darling."
Violet turned to look at herself in the oval mirror above the vanity. Though Violet had grown up pretty, with honey-blond hair, piled up in smooth waves, and striking emerald green eyes, her jaw was a bit too strong, her forehead a bit too high, for her to be beautiful. Since her corset chafed and the satin dress kept in the heat,  the last thing she felt was beautiful. Mrs. Pruitt and Maggie took pin cushions from their workbasket and knelt down to adjust the hem.
At a tap on the door, Guadalupe hurried over and opened it. In the mirror, Violet could just see her father standing in the hall. At sixty-three, Josiah was still an imposing man, stout-chested and heavy-jawed, with a thick shock of pale gray hair slicked back with pomade. Even though he smiled at the girls, his steel-blue eyes stayed cold and distant.
"Can I have a look?" Josiah said to Eustacia. "Or is it bad luck for any man to see it?"
"No, only the groom," Eustacia said. "Honestly, I'm surprised at you of all people worrying about superstitions."
Josiah ignored the last remark and came in. Violet couldn't turn around, but she smiled at him in the mirror.
"Look, Uncle Josiah," Rosie said. "Doesn't she look just like a princess?"
"She is a princess," Josiah said. "Raised her to be one, didn't I?"  He paused to look the dress over. "Real nice, girl. Good. You just wait, come Saturday. Going to be the biggest damn wedding this town's ever seen."
Rosie giggled and the other girls winced at his casual profanity. Eustacia merely sighed.
"And what do you think of it, Lil?" Josiah turned to his wife.
"The dress?"  Lily leaned back in her chair to look his way. "It's perfect."
"You look tired, Lil."
"I am, but just a bit. I thought I'd lie down."  Lily turned to Violet. "Darling, I did want to see the dress, but I think I'll go back to my room now."
"Or course, Mama."  Violet smiled at her. "You need to rest before dinner."
Aunt Eu pursed her lips tightly together but said nothing. Once Josiah had wheeled the invalid chair out of the room, and Guadalupe had shut the door, Eustacia allowed herself a sigh and muttered the words, "professional invalid."
At Violet's feet, Mrs. Pruitt and Maggie crawled further on and began to pin the side hems.
"So your Papa's home already," Gertie said. "Is Mr. Rediston here, too?"
"I don't know," Violet said. "You never know about Maury."
"He does take his work seriously," Eustacia said. "I must say that I'm pleased that you made such a sensible choice for a husband."
"Thank you," Violet said. "Papa likes him, too."
"But Vi," Rosie said, "do you like him?"
Violet hesitated, then managed to smile. "Of course. Or I wouldn't have said yes."
With a sigh, Eustacia stood up.
"Come along, all of you," she said. "You've seen the dress. Now we'll all have a lovely stroll in the gardens."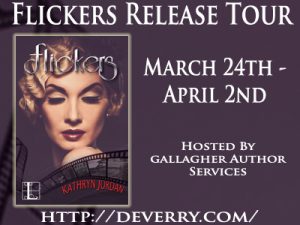 Finishing the fitting took half an hour. Once the seamtresses left, Guadalupe brought back Violet's ordinary afternoon frock. Even with its lace and tucking, the plain white muslin looked drab compared to the splendor of the wedding dress, but with the smothering satin taken away, Violet could finally breathe.
"I'll put the frock back on myself," Violet said. "Aunt Eu's gone, so we don't have to make a fuss."
"Oh, si."  Guadalupe handed her the dress, then hurried over to the door. Lupe was a slender girl of eighteen, the same age as Violet, with raven-dark hair and deep-set black eyes.
"What are you doing, Lupe?" Violet stepped into the dress and pulled it up.
"Listening to make sure they're gone. Miss Violet, something's happened. Jack Sutter came to the kitchen door this morning. He said he wanted to see me, so Mueller let me go down. But Jack gave me a note for you. Oh, he looked so sad!"
Lupe handed her a wad of cheap lined paper. Violet unfolded it while Lupe craned her neck to read over Violet's shoulder.
"Dear Vi," it ran. "I shouldn't be doing this, but I don't care. I'm going to be up on the hill every night this week, and you know darn well where, too. You better come talk to me. Your Jack."
Lupe caught her breath with a gasp.
"You can't," Lupe said. "Miss Violet, you won't, will you?"
"I don't know. I shouldn't."
There was a tap at the door, and Eustacia's fluting voice. "Violet dear?  Are you dressed?"
Lupe grabbed the note and ran for Violet's bed. By the time Eustacia let herself in, the note lay hidden under the ruffled pillow sham.
"I'm almost ready, Aunt Eu," Violet said. "Lupe's just going to tidy my hair."
Lupe held up a tortoise shell hairpin as if she had been looking for it under the pillows.
"Very well," Eustacia said. "Your Mr. Rediston is here."
You can purchase Flickers at:
AMAZON
Google
Kobo
Book Depository
Amazon UK
About the Author:
Kathryn Jordan lives in the San Francisco Bay Area with her husband, two cats, and a vagrant skunk.  Although she spent her childhood in a Great Lakes industrial city, she became a confirmed Californian at age nine, when her family relocated to Santa Barbara, the "Santa Luisa" of the novel.  All it took was one winter without five feet of snow turning into black urban slush to convince her that the move had been worthwhile.  FLICKERS, her first historical novel, is a new departure for her career. Under the name of Katharine Kerr, she's also the author of the Nola O'Grady series of light-hearted urban fantasy novels.
Twitter: "kit_kerr
Facebook  : https://www.facebook.com/Kathryn-Flickers-Jordan-663343223805412/