When you think of childhood milestones, one of the biggest academic achievements is learning how to read. Kindergarten teachers see children in their classrooms at varying levels of early literacy skills. Parents can help their child get a head start on this major skill by providing learning opportunities at home and before kindergarten. There are many ways, from simple to more involved, that parents can prepare their child for the world of reading.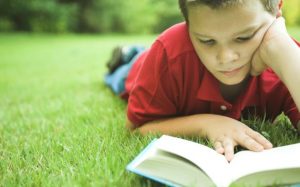 Be a Model
One piece of advice that parents will hear over and over again from their child's teacher throughout their academic career is to be a model reader. If you want your child to be interested in reading, pick up a paper or novel and show how much you enjoy reading. Talk about the things you love to read about and let them pick books for you to share together. Do a picture walk where they explain what is happening on each page. Or point out words that repeat and have them say the words with you. Taking fifteen minutes at the end of the day to read with your child could spark an interest that could last a lifetime.
Consider Preschool
Many public and private institutions offer preschool or daycare programs for children not quite old or mature enough for Kindergarten. This is a great way to get a jump on learning letters and social skills. A child who is used to being in a school setting, even if it is only a couple days a week, will be more likely to succeed in kindergarten because they understand the expectations. Another great choice is a Montessori setting. Apple Montessori Schools focus on child-led learning which can be a great motivator for some students.
Play
Most early childhood educators will tell you to put the flashcards away. One of the best ways to teach any skill is to make it fun. Use shaving cream to practice writing letters. Make upper and lower case letters out of dough. Collages made of beans or pasta can help a child make learning fun which encourages retention. Enjoy this time with your child and watch them blossom.
Reading is a vital skill that can be developed in many positive ways. Children love to learn and interact with their parents and peers. Ideas like these are just a few ways that children entering kindergarten can be prepared with early literacy skills that will aid them as they continue through school.