The Dom Tames Rapunzel by Sydney St. Claire
Once Upon A Dom Series
Jessica Lowe is bored with the endless round of parties her life has become. When she's invited to Pleasure Manor to attend a coveted Fairy Tale role-play event, she's ecstatic, even if the Dom sponsoring her is an old high school classmate. But he's not the nerd he once was, and she can't help but ache for the bossy, domineering man he's become.
Jasen remembers Jessica as the spoiled little rich girl who used her status an d beauty to get what she wanted. From what he's seen and heard lately, not much has changed. She has a reputation topping the Doms in his BDSM club. But he plans to tame this sub once and for all. For three days, she'll be his Rapunzel.
But to Jasen's surprise, there is much more to Jessica than the pampered princess who demanded he do her homework, and he's just the man to help her discover exactly who she is.
EXCERPT:
In high school, they were adversaries. Now, he's her Dom. Can she submit?
"I guess you don't recognize me. It has been many years." He forced disappointment into his voice.
Jessica whipped around, head high as she glared down the gentle slope of her nose at him. "I know who you are. Sir."
Her acknowledgment pleased him, as did the spark of resentment rolling off her in waves. "Ah, a sub with spunk."
Jasen admitted to a bit of perverse pleasure that she was required to show deference to his Dom status, and the fact that it didn't sit well with her made him wonder whether she was truly submissive. Or was her reluctance because he'd been the nerd from high school, the one person who didn't bow to her bidding.
Of course, it was more likely this was just another game in a long list of games, parties, and wasting her life on the frivolous. "We've determined we're not strangers, so back to my question. Will you accept my invitation to be my sub for the fairy tale event? I need your answer. Now." He deepened his voice, used his most commanding tone.
Jessica swallowed hard in reaction and quickly lowered her eyes, but not before he caught a hint of pure lust. His interest rose even higher. Perhaps Glorie was right in her assessment of this woman from his past. Still, she wasn't like the rest of the subs who adhered to their places and roles. If she agreed to be his sub, he accepted that he was going to have to tame this princess. He looked forward to the challenge.
You can purchase The Dom Tames Rapunzel at:
Upcoming books by Sydney:
The Dom Tames Rapunzel-June 24 2016
Wendy & Captain Dom — Fall 2016
Once Upon A Dom Series #5 & 6
Out Now:
You're Tops — A Candy Hearts Romance
Books 1-4 Once Upon A Dom Series
About the Author: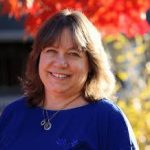 Sydney St. Claire is the pseudonym of Susan Edwards, author of 14 Historical Native American/Western/Paranormal romances and the author of the popular "White" Series.
Sydney loves writing and sharing stories of love, happiness and dreams come true with her readers. She credits her mother for her writing success.  Encouraged to read as a child, she always preferred happy endings which meant romances were her favorite genre.  Sydney takes her readers into the world of erotica romance where her characters come together in explosive passion as they solve life's problems and find true love along with the best sex our hero and heroine have ever experienced.
Sydney's office is quite crowded with three dogs at her feet and five cats to keep her company while she writes. Three cats always insist on beds on her desk, barely leaving enough room for her monitor and keyboard. Life gets fun when all five insist on supervising…
When not writing, she enjoys crafts of all sorts including quilting, sewing, cross-stitch and knitting. She and her husband of 30 + years are avid gardeners. He takes care of the veggies, and Susan is in charge of the 'pretties'. Her medicine wheel garden is in a contact state of war: flowers vs. weeds. Sadly, right now the weeds are wining…
While writing, she listens to a wide variety of music. Her current favorites are Blackmore's Night and David Lanz.
You can learn more about Sydney at:
Email:              Sydney@sydneystclaire.com
Website:          http://sydneystclaire.com
Twitter:           https://twitter.com/Sydneystclaire
Facebook:        https://www.facebook.com/sydneystclaire
Blog:               http://sydneystclaire.wordpress.com
Goodreads:     https://www.goodreads.com/sydneystclaire
Pinterest:         http://www.pinterest.com/sydneystclaire/