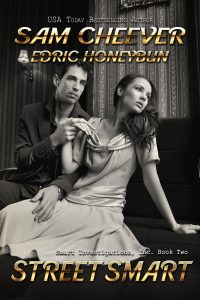 Street Smart by Sam Cheever
Fractured love, treachery and cold-blooded murder…
A nightmarish new case plunges Alex and Matthew into personal and professional chaos as they pursue a killer who traffics in the most vile of human traits. They quickly learn that the current killings are somehow tied to a decades old murder, which comes with a hefty mix of suspects. As they begin to dig into the cold case, they start to realize that one of their suspects is hiding an evil so horrific it can barely stand the light of day.
Unfortunately, the evil they stalk is only one side of a multi-sided problem. Twisted around old loves and never forgotten treacheries, the case threatens their growing feelings for each other and dangerously undermines their professional relationship, while pitting them against a killer more deadly than any they've faced. Can they survive the dual threat? Will they reach for each other when things get rough? Or will they let misunderstanding and menace kill the future they've started building together?
You can read an excerpt of Street Smart here.
Street Smart is available at:
Amazon.com
Amazon.UK
Amazon.CA
Amazon.AU
Barnes & Noble
Kobo Books
ARe
About the Author: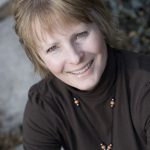 USA Today Bestselling Author Sam Cheever writes romantic paranormal/fantasy and mystery/suspense, creating stories that celebrate the joy of love in all its forms. Known for writing great characters, snappy dialogue, and unique and exhilarating stories, Sam is the award-winning author of 50+ books and has been writing for over a decade under several noms de plume.
Find out more about Sam and her books at:
Newsletter: http://www.samcheever.com/newsletter.html Subscribe to Sam's newsletter and win a free copy of the fun and sexy Honeybun Fever Box Set
Text News Alerts: https://mobile-text-alerts.com/samnews
Website: www.SamCheever.com
Blog: http://samcheever.com/blog/
Amazon Author Page: http://www.amazon.com/author/samcheever
Facebook: https://www.facebook.com/SamCheeverAuthor
Twitter: https://twitter.com/samcheever
Pinterest: http://www.pinterest.com/samcheever1/
Instagram: https://instagram.com/samcheever/