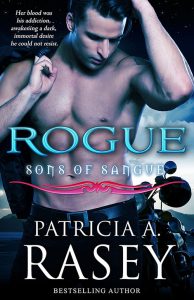 This week Behind the Words welcomes author Patricia Rasey. Welcome Patricia, tell us a bit about yourself. Where you're from, where you live? Do you have one of those day-jobs?
Thanks for having me. My name is Patricia A. Rasey. For those of you who don't know me, I am most known for my paranormal romance series, Sons of Sangue. There are 4 books in the series and I am currently working on a couple of novellas related to the series. Book 5 is due out early next year. I have also written several romantic suspense novels.
I was born in the same small town in Ohio where I currently live. Apparently, I don't get around much…or I prefer the small town life. Mostly the latter. I do have a day job. I work for a software company (WriteWay Pro, MyAuthorBiz, MyBookCRAVE). My job title is a bit across the board, I do software testing, write help files, create templates, and do marketing for them. I do all of my writing in the evening and weekends.
How long have you been writing?
I have been writing seriously now for twenty-four years. I also did some writing back in high school, but it wasn't until a little later in life I decided I wanted to actually put my creative skills to use. There was a 4 – 5 year stretch I almost gave up my writing. That was before I started Viper, book 1, in the Sons of Sangue.
Briefly describe your writing day.
I really don't have a typical routine. Mostly, following supper, I settle down in my writing recliner, grab my laptop, and an ice coffee and I start writing. Anywhere from 1 to 5 hours, depending on how well the night is going.
Tell us about your latest release?
Rogue was my last release. He's a vampire biker, a member of the Sons of Sangue MC. He seemingly turns his back on his MC and goes undercover with a rival MC to try and catch an age-old nemesis. The problem is, the one woman he desires and can't seem to stay away from, inadvertently puts her in harm's way. The two novellas I am working on, due out in September and October are spin-offs of Rogue.
Are your characters entirely fictitious or have you borrowed from real world people you know?
My characters are completely fictional. You can't always keep real life from slipping between the pages of the book, but none of my characters are spin offs of anyone I know in my real life.
Would you share one detail from your current release with readers that they might not find in the book?
In my head, Rogue always looked like Chris Hemsworth. But in the book, when he goes undercover—his look completely changes. So any reader that did not read the first three books, might not get a true impression of who he looks like.
Who has been the most difficult character for you to write? (Any of your books)
Wow. I'm stumped. When I get into a book, I'm totally wrapped up in the characters. So I can't think of one character I had trouble writing. I think in the beginnings of the books, I may struggle a bit, but after the first few chapters, I start locking in on who they are and it starts to flow for me.
If you could be one of your characters for a day which character would it be? Why?
I'm going to say Brea Gotti, at the moment. Maybe it's because I am currently writing her character. But she's been a lot of fun. She's sassy, stronger than the hero, and has a lot she feels she needs to tackle and atone for. She's a very strong character.
What's next?
Draven's novella (book 4.5) comes out in September. He's not a member of the Sons of Sangue, but the barkeep that provided the MC's blood donors. It's a secret society that feeds the vampires. He's gotten himself mixed up with Brea Gotti and finds himself in a heap of trouble, trouble that could easily end his life.
All writers are readers. Are there any particular authors that have influenced how you write and, if so, how have they influenced you?
Absolutely. I love to read. I have a lot of favorite authors, or auto-reads for me, but the biggest two influences for me were Lara Adrian and Sandra Brown. I love both their styles. Lara is the reason I now write paranormal…let's say some gentle nudging in that direction.
If you could have dinner with any writer living or dead, who would it be and why?
John Douglas. I've done a lot of research while writing romantic suspense, and his real-life stories of when he was an FBI profiler fascinates me.
Do you have a secret talent readers would be surprised by?
I'm a third degree black belt in American Freestyle Karate. Although, I'm retired now.
Your favorite go to drink or food when the world goes crazy!
Most definitely iced coffee. And if it's later in the day, a beer or a glass of wine.
What is the one question you never get ask at interviews, but wish you did? Ask and answer it.
If one of my books made it to the big screen, who would be the one actor you would love to snag for a lead part? Chris Evans.
Here's a blurb from Patricia's latest:
ROGUE – Sons of Sangue: Book 4
Vampire MC member Anton "Rogue" Balan, aka Blondy, has turned his back on the powerful Sons of Sangue, betraying the brotherhood he once considered his family. Or so his vampire brethren think. Changing his appearance, his persona, and signing up with rival gang, the Devils, Rogue has gone deep undercover to catch the La Paz Cartel's kingpin. Having lost a woman he once thought he would spend eternity with, Rogue now feels he has nothing left to lose . . . that is until a temptation named Kimber James invades his dangerous world.
Strait-laced Kimber has a problem and his name is Anton Balan. After an impulsive night of passion with him more than a year ago, the small-town librarian still has the hots for the sexy biker next door. She can't deny her desire for Anton, even though she suspects he's hiding a secret even darker than his affiliation with an outlaw MC. As for Rogue, no matter how much he tries to refuse the scorching need he has for Kimber—as much as his duty depends on it—he's powerless to deny his rising feelings for her. And when a blindside by an enemy he once trusted puts Kimber's life at risk, Rogue's tarnished honor is put to the ultimate test.
SONS OF SANGUE – A Vampire MC Series
Book 1: VIPER
Book 2: HAWK
Book 3: GYPSY
Book 4: ROGUE – More to come! – You can purchase ROGUE at:
Kindle: http://amzn.to/1Q3yJUV
iBooks: http://apple.co/1Lxy38b
Nook: http://bit.ly/RogNOOK
Kobo: http://bit.ly/RogKobo
ARe:http://bit.ly/RogARe
Learn more about Patricia Rasey and her works at:
Facebook: http://www.facebook.com/PatriciaARasey
Twitter: http://www.twitter.com/PatriciaRasey
Instagram: http://instagram.com/patriciarasey
Pinterest: https://www.pinterest.com/patriciarasey/