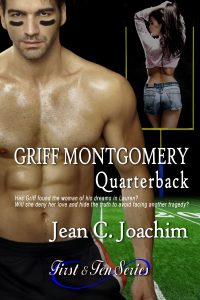 If you love football, romance and sexy quarterbacks you're in for a treat this week as Book Lights host Debra Parmley chats with author Jean Joachim about Griff Montgomery Quarterback, book one in her new First and Ten series.
Listen here!
Two people, two tragedies, two deep, devastating secrets….  Griff Montgomery is the headline-making, heart-breaking star quarterback of the Kings – a  6'4", 33 year old womanizer. Lauren Farraday is a beautiful young interior designer, bitterly scarred by divorce, whose life is falling apart. Though they violently oppose one another in court over her beloved pug (she thinks he's arrogant and  conceited, and he thinks she's a bitch on wheels), something happens….
These are the bare bones of this sizzling romance, riddled with passion — the first in a brand new series that'll tantalize football fans and have readers glued to every page and on the edge of their seats!
Griff looks like a super hero with his tousled, mahogany hair, dazzling smile, dark, sexy eyes, and a body  that does something indescribable to a tight pair of jeans. Though Lauren's sworn off men forever, one look sends shivers down her spine, making her feel lonelier than ever before. Her lustrous, long hair, sparkling green eyes, and nonstop curves make his fingers tingle at the thought of touching her.  How do they deal with their cataclysmic attraction? Will they be able to drop their protective facades – his to camouflage his grief over his sister and her family, for whom he was a surrogate father, moving 3000 miles away…. And hers' to shield her from the incalculable loss of her husband and hoped for child?
For Griff, the thought of falling in love is as foreign as toe shoes and a tutu. For Lauren, it's like putting on cleats and a helmet and running 50 yards…. Can they, will they, risk it?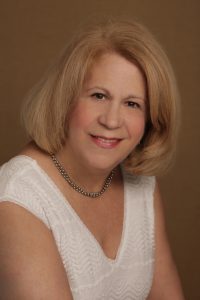 About Jean:
Jean Joachim is a best-selling romance fiction author, with books hitting the Amazon Top 100 list since 2012. She writes mostly contemporary romance, which includes sports romance and romantic suspense.
Dangerous Love Lost & Found, First Place winner in the 2015 Oklahoma Romance Writers of America, International Digital Award contest. The Renovated Heart won Best Novel of the Year from Love Romances Café. Lovers & Liars was a RomCon finalist in 2013. And The Marriage List tied for third place as Best Contemporary Romance from the Gulf Coast RWA. To Love or Not to Love tied for second place in the 2014 New England Chapter of Romance Writers of America Reader's Choice contest. She was chosen Author of the Year in 2012 by the New York City chapter of RWA.
Married and the mother of two sons, Jean lives in New York City. Early in the morning, you'll find her at her computer, writing, with a cup of tea, her rescued pug, Homer, by her side and a secret stash of black licorice.
Jean has 30+ books, novellas and short stories published. Find them here: http://www.jeanjoachimbooks.com.
Sign up for her newsletter, on her website, and be eligible for her private paperback sales.
here: https://www.facebook.com/pages/Jean-Joachim-Author/221092234568929?sk=app_100265896690345
Book Lights – shining a light on good books!