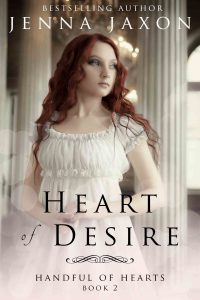 Heart of Desire by Jenna Jaxon
Follow your heart to find your desire
Miss Katherine Locke is irked to start her third season dancing with the disagreeable Lord Haversham, her brother's friend and her own arch enemy. After three years out, however, she's finally interested in the dashing Lord Finley—only to find out her cousin has set her cap for him too. To make the man jealous, Kate feigns interest in Lord Haversham, only to be shocked to find the handsome lord apparently falling for her. With time running out, should she accept his suit and risk falling in love despite herself?
Marcus, Lord Haversham, is in a tight pinch. His estates are failing and worse, he's just lost three thousand pounds to his best friend, Lord Ainsley. Ainsley's solution: have Marcus marry his shrewish sister and he'll cancel his gambling debt plus give him ten thousand more pounds for her dowry. With nowhere to turn, Marcus agrees, praying he can keep word of the wager from Miss Locke long enough to charm her into marrying him. But can he avoid falling in love himself?
EXCERPT:
"King of Spades, thirty-one." Ainsley drew the trick to him. All the tricks save two lay in front of him. "Seven of clubs, thirty-two."
"Well, believe it or not," Marcus leaned back in his chair, "ten of clubs. Eleven and twelve." He gathered the cards to him and sighed. "Definitely your night, Ainsley."
His friend smiled, tallying the last hand. "I believe you are correct, old chap. Shall we go again? Kate has yet to appear and drag me off home."
"Lord, no. I must pay up and go off to lick my wounds." He'd taken a drubbing for certain tonight. Hopefully the damage wasn't as high as he feared. To his dismay, he had not kept track of his losses as well as he should have. For some Godforsaken reason, he'd spent much of the game brooding over Miss Locke's invective about his lack of industry. The woman had no idea what he'd been up against when his father died suddenly. To assume the earldom years before he'd expected it had been a nightmare of a particularly horrible sort. His father had taught him how to manage the estate, of course. Still, having the sole responsibility for all the estates and his sisters' welfare dropped upon him in the blink of an eye, was daunting. Especially in the face of a crisis none of them had foreseen.
In the chaos that had reigned immediately after his father's death, it was discovered that his steward had absconded with a substantial portion of the Haversham ancestral jewels and money. The theft might even have played a part in his father's demise, for he had seemed to age greatly in the days before he died. It would take several years and a great deal of luck to recoup his losses, as there was little hope of recovery of the property. The last anyone had heard of Mr. Clemons, he'd been on a ship bound for America.
Marcus shook off the memory and reached for his purse. "How much have you set me back now, Ainsley?"
"Three."
Hmm. Three hundred pounds was a lot of money to lose, especially when he'd planned to win such a sum instead. Ah, well, it could have been worse. He must refrain from play now, wagering only on investments, as his uncle had admonished him the last time he had to bail him out of the River Tick. "I've got two on me now." He plunked the leather bag down on the table. "I'll call round tomorrow with the other hundred."
"Thousand."
"I beg your pardon?" Marcus stared at his friend, confused. What the devil did he—
"It's three thousand pounds, Marcus. Not three hundred."
The candlelight wavered a moment as his vision tried to dim. Three thousand pounds?
"What do you mean?" Panic made his voice sharper than it should've been. "I never lost so much tonight." Damn, he hated to question Ainsley, but he simply couldn't be right.
"No, it was fifteen hundred tonight." His friend continued to put away the cards, carefully not meeting his eyes. "The rest was from Saxby's on Tuesday and Lord Branderson's game on Saturday last. You were out of pocket both nights, if you recall."
Dear God. He'd meant to get that money to Nathan the next day, but he'd no ready cash at the bank and his uncle had been from home. He was the one resource left who might lend him the sum. If he didn't pay Ainsley, the ton would be on him like wolves on a suckling lamb. Miss Locke would likely lead the pack with a well-placed cut direct.
"I beg your pardon, Ainsley. I meant to get the money from Uncle Parminter, but I couldn't run him to ground. I'll bring it around directly tomorrow morning." God help him if his uncle refused.
"There is a way you can take care of this matter with your uncle none the wiser." Ainsley picked up the leather pouch and dropped it on top of the last trick Marcus had taken. "Marry my sister, and the debt is paid in full."
You can purchase Heart of Desire at:
Amazon
About the Author:
Jenna Jaxon is a multi-published author of historical  and contemporary romance.  She is currently finishing revisions to  her fifth full length novel, To Woo A Wicked Widow, set in Regency England and the first book in her five part series, The Widow's Club.
Only Marriage Will Do, second book in her Georgian  House of Pleasure series is with the editor. Her medieval trilogy, Time Enough to Love, is being published by Rising Phoenix Publications. Book 1, Betrothal is currently available.  Book 2, Betrayal, will be available later this fall.
Jenna has been reading and writing historical romance since she was a teenager.  A romantic herself, she has always loved a dark side to the genre, a twist, suspense, a surprise.  She tries to incorporate all of these elements into her own stories. She lives in Virginia with her family and a small menagerie of pets.  When not reading or writing, she indulges her passion for the theatre, working with local theatres as a director.  She often feels she is directing her characters on their own private stage.
She has equated her writing to an addiction to chocolate because once she starts she just can't stop.
Visit Jenna online at:
Website