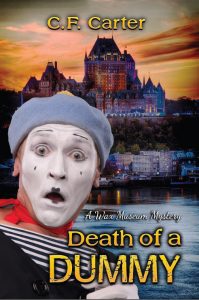 Death of a Dummy by C. F. Carter
Nothing bad ever happens in charming Old Quebec City, at least not until surf bum Paul comes to town. Now, dead bodies are popping up like surfboards after a killer wave.
To make matters worse, Paul has only has a few months to make his new building profitable or he'll lose everything. Lucky for him there's a derelict wax museum in his basement, and everybody knows they're practically a license to print money—right?
With the help of his new friend and business partner—a loopy octogenarian named Dottie—they unravel the mystery behind a priceless antique tapestry and two seemingly unrelated murders, all while systematically sampling every pastry in town…
The knocking came with a whiny voice. "I'm dying out here, open the door!"
I found a very heavy and very sweaty man on my stoop, with dark wisps of hair combed across his bald scalp. He might have weighed over four hundred pounds, but without an industrial sized scale one could only guess. If I were really curious, I could take him for a ride in my van and go through one of those weighing stations, subtracting the weight with and without him inside. That's how they did it back home when a dead whale washed up on the beach.
The whale/man looked friendly and wore a cardigan sweater and pinstripe pants. He handed me a large water-speckled cardboard box and rubbed his arms to bring back the circulation, breathing heavily. "This came for you today. You weren't in, so they asked me to sign for it. There's another box in my store, even bigger than this one."
I checked the shipping label on the box. It was my new point of sale system. "Wow! I ordered this yesterday and didn't expect it this quickly. I'm Paul, by the way."
The fat man was still wheezing when he shook my hand. "I'm Toby. I own the bookstore next door. I've been meaning to come over and introduce myself, but I wanted to give you a chance to get settled in. What happened to your door?"
"Break-in," I said.
Toby's sweaty face registered surprise. "A break-in? That's unheard of around here. We have the lowest crime rate in North America, you know. Did they get anything?"
"There wasn't anything to get, really" It was a lie, but I didn't see any reason to tell him about the tapestry. "Would you like a coffee? I make a pretty decent brew, if I say so myself."
"Splendid! I have a new employee working cash right now. This is good opportunity to see how she handles things if I leave her alone. So by all means, lead on!"
The coffee in the carafe was still hot. I wasn't going to tell him I'd just eaten or he might feel like he was putting me out; having more coffee and snacks was really the only polite course of action.
"Would you care for a pastry?" I asked.
Toby flopped heavily into a chair and brushed his few hair into place with his fingers. "To be honest, Paul, I smelled them when I came in. At this point, if you didn't offer me one I would chew your arm off for a bite."
I laughed and put a caramel pastry puff on his plate. Toby narrowed his eyes and made a keep-them-coming gesture with his hand. I added a soft caramel cupcake on each of our plates and smiled. "I see I'm not the only one who likes these."
Toby nibbled one of the pastries like he was sampling a fine wine, then dug in with the urgency of a crack fiend. Moments later he was brushing the crumbs from his hands. "These are from L'Ancienne Boulangerie. The best pastry puffs in the city. You've done well."
I sampled my own. The pastry puff had a sweet cheese curd filling and was packed with flavour.
Toby took a closer look at me. "You better be careful, I was in great shape like you once.  Behold, your future!" He spread his arms with a dramatic flourish, and his shirt hiked up to reveal an enormous white beach ball. I felt a pang of dread.
Toby noticed my reaction and laughed heartily. Then he noticed there was still a cupcake on his plate and stuffed it in his mouth. He ate this one more slowly, as if hoping to prolong it.
You can purchase Death of a Dummy at:
Amazon
About the Author: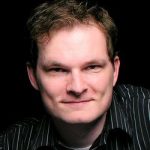 A graduate of the University of Western Ontario, C. F. Carter owns several internet companies and publishes Mystery Weekly magazine. When he's not writing crime fiction, he enjoys badminton, photography, and TV crime shows. He currently lives with his wife and daughter near Hamilton, Ontario, but feels most at home in Old Quebec, where he hopes one day to retire.
You can follow C.F. online at:
Facebook: https://www.facebook.com/quebeccitycozymystery/
Twitter: @WaxMystery
Web: http://www.waxmystery.com